Although it draws thousands of families every year, most of the events at the Three Rivers Arts Festival aren't specifically for children — unless your kids happen to love browsing for hand-carved furniture, while listening to introspective, melancholy folk-rock.
You can run like crazy across the big lawn, and gobble up deep-fried dough balls (a real thing), which few kids would argue with. But there also are a few art-themed kid-friendly things that are distinctive to the Arts Festival.
As part of the Giant Eagle Kids Creativity Zone — in Point State Park on the fountain side of the tunnel — the Pittsburgh Center for Creative Reuse has a tent, hosting what they call a "Reuse-a-palooza." Adam Nelson, programs coordinator for the center, spoke while handing out trays to kids and parents, which they then filled with junk: bits of foam, First Night 2009 buttons, compact disc cases, hospital bracelets.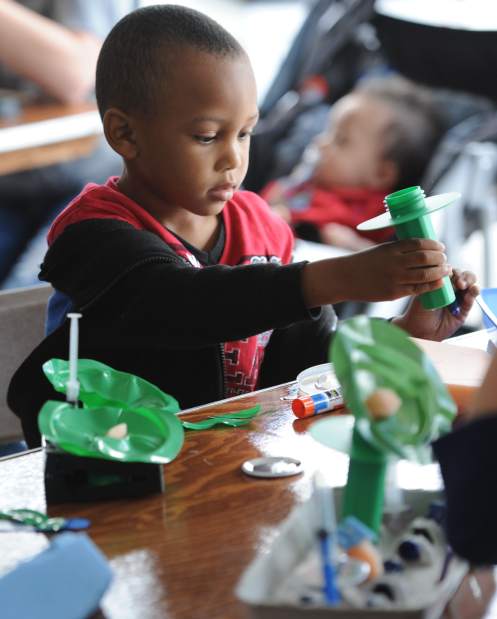 Alijah Bell, 4, works on a robot at the Arts Festival in Downtown Wednesday, June 6, 2012. The Giant Eagle Creativity Zone offers activities for all ages including the creative reuse activity tent. (Philip G. Pavely | Tribune-Review)
"We're here every year," Nelson said. "We provide an opportunity for kids and adults to explore creativity through creative reuse."
What do they make? Well, sometimes that's not the easiest question to answer.
"I don't know, but it looks crazy," said Megan Boden of Fineview, gazing upon the coffee lid-festooned creation of Kiley Broom, 3. "Is it a scarecrow, Kiley?"
"I don't know," Kiley replied. "Yeah, it's a scarecrow."
The Pittsburgh Center for Creative Reuse takes discards of all kinds — office supplies, unused medical equipment, even CD cases owners drop off. This is typically stuff that Goodwill or Construction Junction (with which the center shares space in Point Breeze) don't want. They try to find people who might want it — usually artists and "makers" who need odd, specific items for large-scale projects.
An empty CD case for "Cat Stevens' Greatest Hits" sat on the table in front of Kiley. Apparently, her "scarecrow" didn't need another rendition of "Peace Train" to make it complete.
"Last year, my sister helped her make a crown out of safety pins," Boden said. "She took it home and connected it to a scarf and pretended she was telepathic."
The Pittsburgh Center for Creative Reuse claims on its website (pccr.org) to have diverted 12 tons of material from landfills in the past year alone.
"We're building up a networks of artists," Nelson said. "We do classes. We bring in artists to teach classes. If an artist needs a particular thing, they can call us."
Nelson said he might teach a class in making picnic tables out of old DVD cases, at some point.
Amorae Bell of the North Side held up her son Alijah's creation, as the 4-year-old darted out of the tent and back. It could be a robot, with the body of an old videocassette. Then again, the circular plastic eyes seemed to connote a kind of insect heritage.
"It's a fly-bot, I guess," Bell said.
This was only the first
20 minutes of the day. Who knows what else will arrive during the day, direct from the imaginations of children?
"It's better than sitting at home on a nice day," Boden said.
The Reuse-a-palooza and the Giant Eagle Creativity Zone are open from noon to 6 p.m. daily through Sunday at the Three Rivers Arts Festival.
Michael Machosky is a staff writer for Trib Total Media. He can be reached at mmachosky@tribweb.com or 412-320-7901.