Staff
Administration:
Ashley Andrews, Executive Director, Shop Manager, and Curator
Ashley began volunteering with Pittsburgh Center Creative Reuse in 2010 and, soon after, was hired as one of the first paid staffers. As the organization grew, Ashley's responsibilities grew along with it – so much so that Ashley is now the Executive Director. Ashley has a keen interest in humanity's potential to transform negative situations into positive ones. As a gallery curator, Ashley also has an intentional focus on promoting artists from marginalized communities, especially low-income, black and brown, differently-abled, LGBTQ, and immigrant/refugee communities. In Ashley's vast amount of free time (ha!), this human can be found organic gardening and finding appropriately sized button down shirts without darts or frills on them.
Evelyn Mann, Administrative Coordinator
Evelyn volunteered at a Reuse-a-Palooza with Creative Reuse, then started volunteering in the Shop, then became a Nonprofit Administration Intern, and was then hired as the first Executive Assistant in February of 2015. Evelyn is an engineer, scientist, educator, musician, and Super Administrative Wonder Hero. As a Master of Sustainability, she recognizes the deficiency in humanity's relationship with the environment and itself, and thus aspires to advance the practical and balanced philosophy of sustainability through education, application, and accessibility. Evelyn is a Munhooligan – or resident of Munhall – along with her two feline companions, Luna and Mishka.
Creative Education:
Nora Gilchrist, Creative Education Manager
Nora began volunteering at Creative Reuse in July 2013, shortly after arriving from her hometown Boston, and was hired as Community Liaison in November 2013. As demand for hands-on programs grew, so did Nora's position into that of Creative Education Manager. Her background is in various aspects of art: Studio Practice, History, Community, and Teaching. She has worked in higher education administration, bookstore retail, and with a non-profit used bookstore/youth entrepreneurship program. As an artist, Nora works primarily in portraiture but nearly always incorporates a reuse-y twist, and is now virtually unable to draw or paint on blank pages or canvases. She loves thunderstorms and has great appreciation for sassiness, gumption, and unsung heroes. Her artwork can be viewed at noragilchrist.com.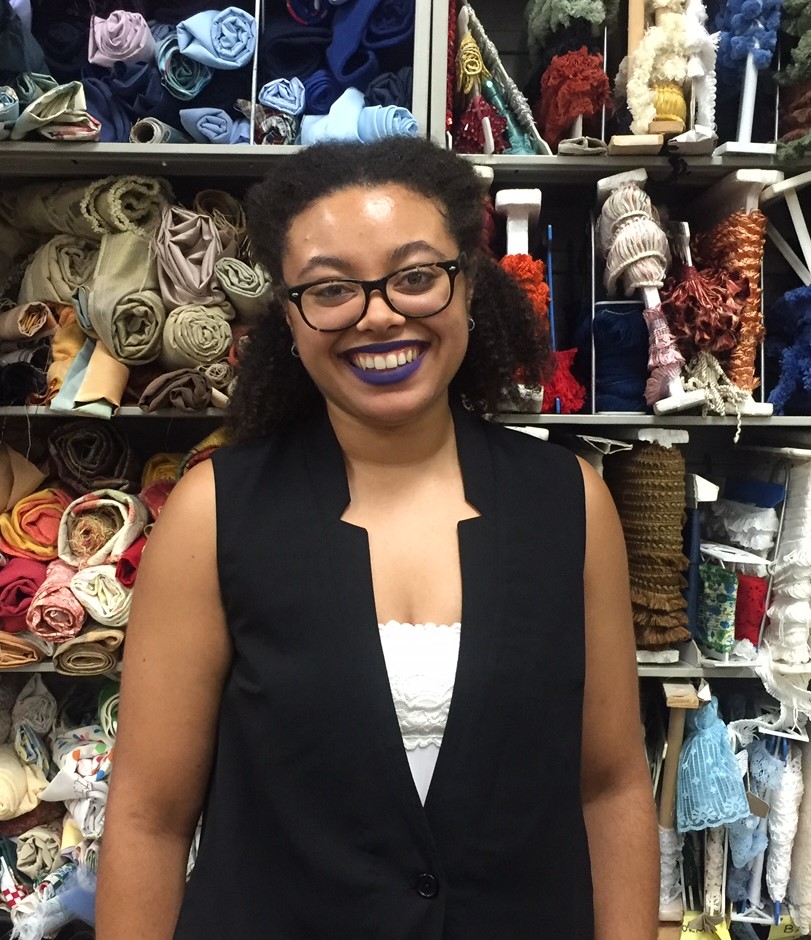 Isabelle (Isy) Ibibo, Creative Education Associate
Isy was a PULSE fellow serving for the 2016-2017 year, focusing on program planning and social media presence – but is now employed as a part-time staffer by Creative Reuse! Isy studied Spanish at Carleton College in Minnesota. She was the chief design editor of the Lens, Carleton's student run literary magazine and worked in the psychology department doing memory studies with Cotton-Top Tamarin Monkeys. She loves monsters, and fairy tales, and would be happy to discuss zombies at any time. When not at Creative Reuse, Isy enjoys sewing, making jewelry, reading, running, and wasting time on YouTube and Netflix.
Shop and Materials:
Cammie Brady, Co-Assistant Shop Manager
Cammie's relationship with Creative Reuse started in 2012 when she became a volunteer, then later an intern, and then even later, a shop assistant! Cammie is a self-taught painter, cartoonist and assemblage artist. She is also an animal parent, and has done volunteer work with shelter cats. When not at work, Cammie can be found gluing small jewels onto things (accompanied by frustrated mumbling), playing guitar (badly), and eating vegan pizza.
Suzi Fortunato, Shop Assistant
Suzi started working at Creative Reuse in 2013. Her favorite part of the shop is the fabric section, where you can frequently find her making improvements and reorganizing. A life-long fiber artist and reuser, her sewn creations range from jeans pocket pot holders to knitted shawls.
Emily Herschl, Shop Assistant
Emily began her journey at Creative Reuse as the Artist Residency and Gallery Intern in October, 2015 while she was finishing up her Environmental Studies degree and Japanese minor at the University of Pittsburgh. She was hired as a Shop Assistant February of 2016 and still enjoys volunteering additional hours with the Creative Reuse Gallery. Before working at Creative Reuse, she spent 6 months living abroad in Tokyo, Japan to study Buddhism, Anthropology, and the Japanese language and culture. As a lifetime lover of art, she also enjoys drawing, painting, and creative writing in her spare time.
Barbara Moore, Co-Materials Coordinator
Barbara started her relationship with Creative Reuse as a volunteer in 2011, then worked part time in the shop before becoming the Materials Coordinator in 2014. As Materials Coordinator, she reaches out to businesses/non-profits to see if they'd like to donate – instead of discard – their unwanted materials. As one of five children, she came to understand that there is plenty of life left in objects that may seem worn out. In the 20 years previous to her life at Creative Reuse, Barbara's work was centered around dog behavior. She gained experience through shelter work and apprenticeships with behaviorists. When she is not working, Barbara digs for old bottles, watches wildlife, and enjoys road trips with her partner.
Daniel Shapiro, Co-Assistant Shop Manager and Co-Materials Coordinator
Daniel started with Creative Reuse in 2012 as a volunteer on a committee for a party that never occurred, then started volunteering in the shop before working as a Shop Assistant. Daniel has an MFA and has worked for the Smithsonian American Art Museum, The Phillips Collection, and other art organizations. Contrary to popular belief, Daniel has never been a cowboy, but daydreams of having a farm with rescued animals that he tends to with his trusty cat Zeebo at his side. Currently his art making focuses on found object assemblages, which can be viewed on his website, danielshapiroart.com, or in local shops around the city.
Staff can be reached at emails of this format: [first name]@pccr.org
Board of Directors
Creative Reuse also has a dedicated, creative, and engaged Board of Directors:

Wendy Burtner-Owens, President
Steeltown Entertainment
Wendy is an experienced leader with over 25 years of progressive responsibility in both for-profit and nonprofit environments. She has a strong track record in growing and/or re-aligning organizations by collaboratively setting vision, direction and strategy and leading teams to reach ambitious results. In addition to her many professional accomplishments, Wendy has committed her time and energy to various organizations, including C3 – The Creative Change Center, Guidestar, and the Comfort Zone Camp, among others.
Anqwenique Wingfield, Vice President
The Groove Aesthetic
Anqwenique Wingfield is a highly sought after vocalist and teaching artist specializing in opera, classical music, jazz and soul. As a teaching artist, Anqwenique has shared her talents and experience with many young singers and musicians in Pittsburgh. She conducted an after school choral program at Pittsburgh Arsenal 6-8 and helped coach students for CAPA auditions, a program offered through the MGR Foundation. She currently teaches voice and Piano at Hope Academy of East Liberty Presbyterian Church.
Donna Beer Stolz, Secretary
University of Pittsburgh
Donna Beer Stolz is originally from Westminster, Massachusetts, a small hamlet ~50 miles west of Boston near the New Hampshire boarder. Donna moved to the Pittsburgh area with her husband John Stolz, in 1990 after completing her Ph.D. in Molecular and Cellular Biology at the University of Massachusetts, Amherst.  She is a tenured associate professor of Cell Biology in University of Pittsburgh Medical School, and is the Associate Director of the Center for Biologic Imaging, where she oversees biomedical research projects for principal investigators involving light and electron microscopy approaches.  At CBI, Donna combines her love of biology, nature and microscopy with visual art and really enjoys sharing and fostering these interests through outreach with students of all ages. She has won numerous international awards for her biology-centric micrographs.
Donna also has a passion for the environment and sustainability through education and science, but also insatiable interests in fiber, paper and glass art, upcycling, photography and hiking in the great outdoors.   As a hiking enthusiast, she has served on the board of the Rachel Carson Trails Conservancy since 2009 and feels that serving on the PCCR Board is an amazing honor and really combines her love of the environment with individual expression through arts and crafts.
Adam Nye, Treasurer
Winchester Thurston
Adam Nye is the Director of City as Our Campus at Winchester Thurston School. This position involves designing and implementing experiential learning experiences for students and teachers by connecting with community partners. Adam holds a Masters of Education from University of Pittsburgh and a B.S. in Education and Public Policy from the Pennsylvania State University. He was previously employed by Thinkery (Austin, TX) and Children's Museum of Pittsburgh. Adam specializes in informal learning, program design, and community engagement.
Ashley Andrews, Acting Executive Director
Shop Manager and Curator
Ashley volunteered with Creative Reuse for a spell and then was hired as one of the first paid staffers in 2010. As the organization grew, Ashley's responsibilities grew along with it – she now cultivates a team of 5 incredible shop staff, one excellent volunteer coordinator, 5 energetic interns, and also runs various exciting programs like ReCreative Partners, Artist Residency and Gallery, Bar Crafts, and Project Sponsorships. Ashley's art involves taking self-portraits of herself as other people, identities, stereotypes, or variations of her own self. She also works with similarly named Ashley Andrykovitch on The App Expo (theappexpolol.wixsite.com/theappexpo), an art/tech collaboration they started in 2012. She would also love to photograph your wedding or your friend's wedding – she's been doing photography and video work professionally since she was 16. Ashley enjoys taking poorly planned road trips with her partner, Barbara, and their magnificent, kindly beagle, Space.
Tonisha Blackwell is the Founder and Lead design curator of Knotzland, a start up committed to rescuing rare & high-quality fabrics around the city and constructing them into stylish upcycled accessories. The uniqueness lies in its commitment to crafting an ecosystem that brings artists, designers, organizations and customers into the sustainable fashion conversation. Upon finishing her degree at Edinboro University she  moved back to Homewood in 2007 and has since spent a great amount of time serving the Pittsburgh community through platforms like  Americorp, Strong Women Strong Girls, GTECH's ReEnergize Pittsburgh and currently Neighborhood Allies.  The knowledge and leadership gained from serving has not only enhanced her passion for community engagement, but allowed her to develop an even more holistic view of the city that has allowed her to plant her feet where she has the most passion for change. She now uses her business to raise awareness in the importance of sustainability in the areas of community, environment and fashion.
Lourdes Karas
West Liberty University
Lourdes (Lou) Karas is the Director of the Center for Arts and Education at West Liberty University in West Liberty, WV. She has over thirty years of experience in the administration, design and evaluation of non-profit arts and education programs. Lou joined the PCCR Board in January 2016. A resident of Highland Park, she enjoys gardening and needlepoint.
Darrell S. Kinsel
Boom Concepts
Darrel "D.S." Kinsel is a black creative entrepreneur and arts administrator based in Pittsburgh, PA. He expresses his creativity through the mediums of painting, window display, installation, curating, action-planning, non-traditional performance and social media. While Kinsel's primary practice is painting, he believes that experimenting in other disciplines will ultimately further his development as a painter. Kinsel's work puts focus on themes of escapism, space keeping, urban tradition, pop culture, hip-hop, informalism and cultural appropriation. D.s. is the Co-Founder of Boom Concepts, a combination work space/creative hub which, in addition to hosting his studio space and Jenesis' production facilities, aims to be a gallery, performance and gathering space. Since 2011, D.s. has served as the Mgr Pittsburgh Youth Empowerment Arts in Action Program Coordinator & Mgr National Social Media Coordinator. He works with youth, community artists, and community partners to identify ways for youth to express issues of social justice through drama, dance, music, visual art, and technology. As the National Social Media Coordinator, D.s. collects content from Mgr's initiatives in Pittsburgh, Charlotte, and Chicago. He regularly provides training to non-profits on best practices around utilizing social media to become a stronger presence within the community.