To contact us by email, please route your inquiry accordingly:
SHOP: with inquiries regarding the shop and donations, email shop@pccr.org
PROGRAM: with inquiries regarding programming, space rentals, and field trips, email programs@pccr.org
INFO: with all other inquiries, email info@pccr.org
Staff can be reached at emails of this format: [first name]@pccr.org.
Note: We can no longer be reached at @creativereusepittsburgh.org. Our new domain is @pccr.org. If you have one of our old email addresses in your Contacts, please be sure to update it. Thanks!
For information on pronouns and why they matter, visit https://www.mypronouns.org/what-and-why.
Administration: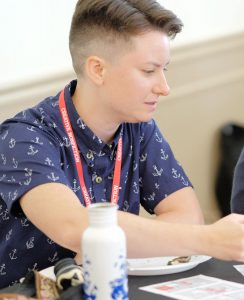 Ash Andrews, Executive Director
she, her, hers, or they, them, theirs (Please use Mx. for Ash's title)
Ash began volunteering with Creative Reuse in 2010 and was hired as one of the first paid staffers soon after. An administrator, an artist, a poet, and a dreamer, Ash has a keen interest in humanity's potential to transform negative situations into positive ones. Ash believes that reuse might just save the world.
Hannah Sauder, Administrative Coordinator
they, them, theirs
Hannah Sauder cares deeply about creative arts education, environmental sustainability, and collaborative learning. They studied communication, international studies, and graphic design at Goshen College. Their art-making process is focused on expressing an appreciation for the complexity of queerness. Explore their art on Behance.
Creative Education:
Melissa Rogers, Creative Education Manager
she, her, hers
Melissa is a craft activist and arts educator who loves butterflies, owls, succulents, and dirt. She stepped into the position of Creative Education Manager in 2019 after serving as a Shop Assistant, Teaching Artist, and the Creative Education Specialist at Creative Reuse. She earned her PhD in Women's Studies in 2017 from the University of Maryland, College Park. Her dissertation explored the relationships between craft, knowledge, queer and trans feminist art, and contemporary maker movements. When she's not hanging out with plants she's stitching, making zines, practicing astrology, and rescuing treasure from the side of the road. You can find some of her projects using reclaimed materials at Hyperrhiz and Thresholds.
Lisa Simon,
Creative Education Specialist
she, her, hers
Lisa Simon is an educator, writer, artist and activist.  Four years ago, she walked into PCCR and knew she had found  the right place and she has worked with the Creative Education programs in various capacities ever since. Lisa's favorite things to make are books and trophy/statues from reused materials. When she's not working at Creative Reuse she is making something – usually in a garden or with the children and youth of Wilkinsburg.
Shop and Materials:
Daniel Shapiro, Materials Coordinator
he, him, his
Daniel started with Creative Reuse in 2012 as a volunteer on a committee for a party that never occurred, then started volunteering in the shop before working as a Shop Assistant. Daniel has an MFA and has worked for the Smithsonian American Art Museum, The Phillips Collection, and other art organizations. Contrary to popular belief, Daniel has never been a cowboy, but daydreams of having a farm with rescued animals that he tends to with his trusty cat Zeebo at his side. Currently his art making focuses on found object assemblages, which can be viewed on his website, danielshapiroart.com, or in local shops around Pittsburgh.
Cammie Brady, Volunteer Coordinator and Shop Manager
she, her, hers
Cammie's relationship with Creative Reuse started in 2012 when she became a volunteer, and then an intern, and then later, a Shop Assistant, and even later, the Shop Manager! Cammie is a self-taught painter and illustrator, and proud pet-parent of Griffin the cat (AKA Marty Meat Mouth). Cammie hopes that through art-making with reused materials, we can nurture our inherent care and love for our planet.
Eli Goodfriend, Shop Assistant
he, him, his

Eli started volunteering at Creative Reuse, before being hired as a Shop Assistant in 2019. Raised by a team of dumpster divers, he has a hereditary obsession with reuse. Eli's favorite shop area is the paper section, where he can often be found looking for materials for his next pervasive game.
Emma Vescio, Shop Assistant
she, her, hers or they, them, theirs
Emma started with Creative Reuse in 2019 as a Shop Assistant, and now works as a Teaching Artist as well. She majored in Art History at the University of Pittsburgh, and has had the opportunity to work throughout Pittsburgh as a curator, writer, and educator. Emma enjoys reading theory and poetry, embroidering different works, and dancing on the weekends with friends.
Lillian Williams, Shop Assistant                                                                                     she/her/hers
Involved as a volunteer starting January 2019, she was hired as shop assistant one year later. Raised by music-loving pack-rats, she's an amateur thrifter for all things kooky and kitschy. In the summer you can hear her on WPTS (as DJ Lil), spinning old and new tunes. Just like in the world of music, discovering old oddities inspires her to find new appreciation for them. All things paper and stationery fascinate her, whether the pieces end up in a collage or as snail-mail to far-flung pals. In her spare time, she enjoys making meals with her spouse and snuggling with their cats.
Suzi Fortunato, Shop Assistant
she, her, hers
Suzi started working at Creative Reuse in 2013. Her favorite part of the shop is the fabric section, where you can frequently find her making improvements and reorganizing. A life-long fiber artist and reuser, her sewn creations range from jeans pocket pot holders to knitted shawls.
Vivienne Shao, Shop Assistant
she, her, hers
Vivienne started with Creative Reuse in 2016 as an intern, before later being hired as a Shop Assistant. She majored in Visual Studies and Ecological Planning and Design at Temple University. Vivienne is currently obsessed with yarn. She spins, weaves, crochets, and does anything yarn-related.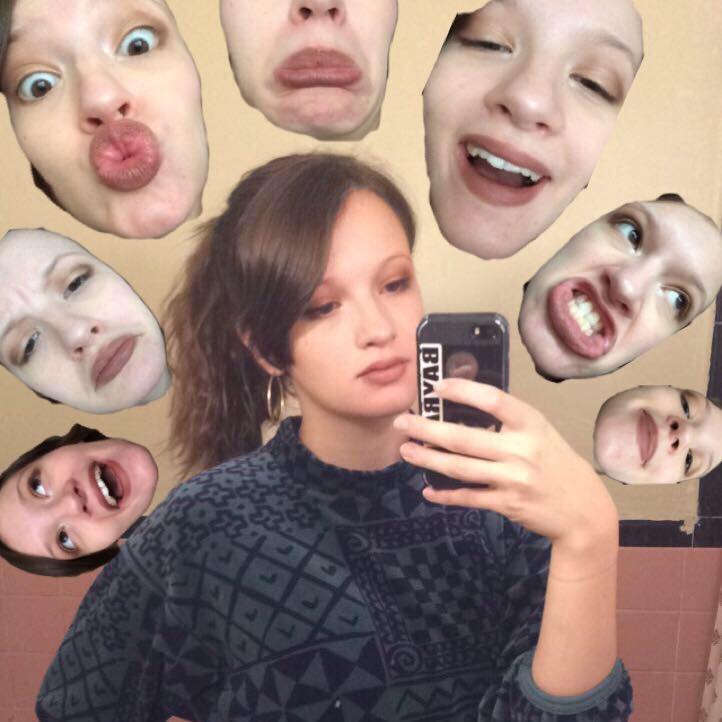 Xiola Jensen, Shop Assistant
she, her, hers
Xiola started as a work-study student at Creative Reuse in 2017, and was officially hired as a Shop Assistant following her graduation in April 2019. An alumna of Chatham University, Xiola has a degree in graphic design and focuses primarily on digital illustration, but her passion for traditional art runs deep as well. Her most recent projects involve painting on thrifted items, such as purses and notebooks, to turn them into unique and custom works of art. Check out her website at xiolajensen.portfoliobox.net.
Board of Directors
Creative Reuse also has a dedicated, creative, and engaged Board of Directors:
Adam Nye,

President,

Winchester Thurston
Brian Savolskis, Vice President,

Highmark Health
Sarah Simkin, Treasurer,

Pennsylvania Office of Attorney General
Rick Soria, Secretary,

Soria Consulting
Ash Andrews, Executive Director, Pittsburgh Center for Creative Reuse
Wendy Burtner-Owens,

Steeltown Entertainment
Peter Humphrey,

MacLachlan, Cornelius, & Filoni
Alexis McConville
Lynn Helbling Sirinek,

Community Volunteer
Candace Johnson,

Comcast
Alicia Donner, Advantage Credit Counseling Service
Michelle Wion Chitty,

Winchester Thurston School