Staff
Note: We can no longer be reached at @creativereusepittsburgh.org. Our new domain is @pccr.org. If you have one of our old email addresses in your Contacts, please be sure to update it. Thanks!
To contact us by email, please route your inquiry accordingly:
SHOP: with inquiries regarding the shop and donations, email shop@pccr.org
PROGRAM: with inquiries regarding programming, space rentals, and field trips, email programs@pccr.org
INFO: with all other inquiries, email info@pccr.org
Staff can be reached at emails of this format: [first name]@pccr.org.
For information on pronouns and why they matter, visit https://www.mypronouns.org/what-and-why.
Administration: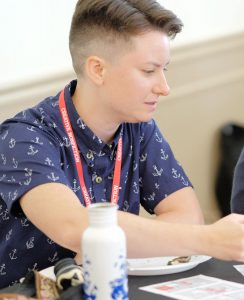 Ash Andrews, Executive Director
she, her, hers – please use Mx. for Ash's title
Ash began volunteering with Creative Reuse in 2010 and was hired as one of the first paid staffers soon after. Ash is an administrator, an artist, a poet, and a dreamer. Ash has a keen interest in humanity's potential to transform negative situations into positive ones. As a curator, Ash focuses on promoting artists from marginalized communities – especially low-income, black and brown, differently-abled, LGBTQIA+, and immigrant/refugee communities. Ash believes that we can and should do better to protect our people and our planet.
Evelyn Matsumoto, Administrative Coordinator
she, her, hers
Evelyn volunteered at a Reuse-a-Palooza with Creative Reuse, then started volunteering in the Shop, then became a Nonprofit Administration Intern, and was then hired as the first Executive Assistant (in February of 2015). Evelyn is an engineer, scientist, educator, musician, and Super Administrative Wonder Hero. As a Master of Sustainability, she recognizes the deficiency in humanity's relationship with the environment and itself, and thus aspires to advance the practical and balanced philosophy of sustainability through education, application, and accessibility. Evelyn is a Munhooligan – or resident of Munhall – along with her two feline companions, Luna and Mishka, and her new husband.
Hannah Sauder, Administrative Coordinator
they, them, theirs
Bio and photo coming soon!
Creative Education:
Melissa Rogers, Creative Education Manager
she, her, hers
Melissa is a craft activist and arts educator who loves butterflies, owls, succulents, and dirt. She stepped into the position of Creative Education Manager in 2019 after serving as a Shop Assistant, Teaching Artist, and the Creative Education Specialist at Creative Reuse. She earned her PhD in Women's Studies in 2017 from the University of Maryland, College Park. Her dissertation explored the relationships between craft, knowledge, queer and trans feminist art, and contemporary maker movements. When she's not hanging out with plants she's stitching, making zines, practicing astrology, and rescuing treasure from the side of the road. You can find some of her projects using reclaimed materials at Hyperrhiz and Thresholds.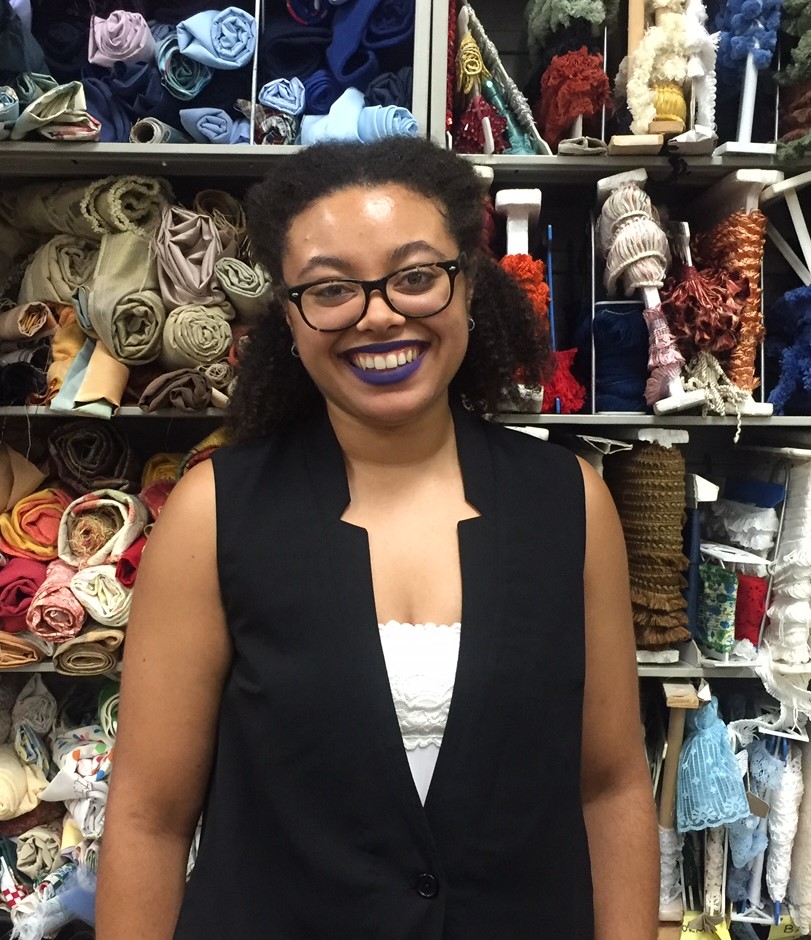 Isabelle (Isy) Ibibo, Creative Education Associate
she, her, hers
Isy was a PULSE fellow serving for the 2016-2017 year, focusing on program planning and social media presence – but is now employed as a part-time staffer by Creative Reuse! Isy studied Spanish at Carleton College in Minnesota. She was the chief design editor of the Lens, Carleton's student-run literary magazine and worked in the psychology department doing memory studies with Cotton-Top Tamarin Monkeys. She loves monsters, and fairy tales, and would be happy to discuss zombies at any time. When not at Creative Reuse, Isy enjoys sewing, making jewelry, reading, running, and wasting time on YouTube and Netflix.
Avery Finch, Creative Education Assistant

Bio and photo coming soon!
Shop and Materials:
Daniel Shapiro, Materials Coordinator
he, him, his
Daniel started with Creative Reuse in 2012 as a volunteer on a committee for a party that never occurred, then started volunteering in the shop before working as a Shop Assistant. Daniel has an MFA and has worked for the Smithsonian American Art Museum, The Phillips Collection, and other art organizations. Contrary to popular belief, Daniel has never been a cowboy, but daydreams of having a farm with rescued animals that he tends to with his trusty cat Zeebo at his side. Currently his art making focuses on found object assemblages, which can be viewed on his website, danielshapiroart.com, or in local shops around Pittsburgh.
Cammie Brady, Volunteer Coordinator and Assistant Shop Manager
she, her, hers
Cammie's relationship with Creative Reuse started in 2012 when she became a volunteer, then later an intern, and then, even later, a shop assistant…and beyond! Cammie is a self-taught painter, cartoonist, and assemblage artist. She is also an animal parent, and has done volunteer work with shelter cats. When not at work, Cammie can be found gluing small jewels onto things (accompanied by frustrated mumbling), playing guitar (badly), and eating vegan pizza.
Suzi Fortunato, Shop Assistant
she, her, hers
Suzi started working at Creative Reuse in 2013. Her favorite part of the shop is the fabric section, where you can frequently find her making improvements and reorganizing. A life-long fiber artist and reuser, her sewn creations range from jeans pocket pot holders to knitted shawls.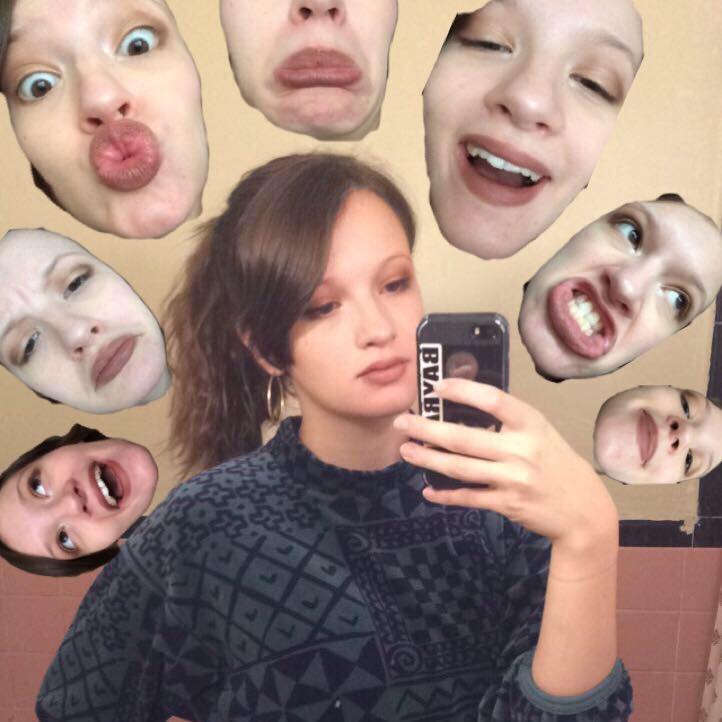 Xiola Jensen, Shop Assistant
she, her, hers
Xiola started as a work-study student at Creative Reuse in 2017, and was officially hired as a Shop Assistant following her graduation in April 2019. An alumna of Chatham University, Xiola has a degree in graphic design and focuses primarily on digital illustration, but her passion for traditional art runs deep as well. Her most recent projects involve painting on thrifted items, such as purses and notebooks, to turn them into unique and custom works of art. Check out her website at xiolajensen.portfoliobox.net.
Charlie Rayshich, Shop Assistant
they, them, theirs
Charlie joined the Creative Reuse team in 2019 as a Shop Assistant. As a lifelong Pittsburgh resident growing up in the ashes of the mills, they've always been fascinated by the lost stories of discarded items, and have a passion for breathing life into these stories as a writer. They can most often be found rummaging around behind the Donation Desk and remarking on all the strange and wonderful things they find.
Vivienne Shao, Shop Assistant
she, her, hers
Vivienne started with Creative Reuse in 2016 as an intern, before later being hired as a Shop Assistant. She majored in Visual Studies and Ecological Planning and Design at Temple University. Vivienne is currently obsessed with yarn. She spins, weaves, crochets, and does anything yarn-related. 
Emma Vescio, Shop Assistant
she, her, hers or they, them, theirs
Emma started with Creative Reuse in 2019 as a Shop Assistant, and now works as a Teaching Artist as well. She majored in Art History at the University of Pittsburgh, and has had the opportunity to work throughout Pittsburgh as a curator, writer, and educator. Emma enjoys reading theory and poetry, embroidering different works, and dancing on the weekends with friends.
Board of Directors
Creative Reuse also has a dedicated, creative, and engaged Board of Directors:
Adam Nye, President
Winchester Thurston
Brian Savolskis, Vice President
Highmark Health
Sarah Simkin, Treasurer
Lichfield Cavo, LLP
Rick Soria, Secretary
Soria and Associates, Inc.
Ash Andrews, Executive Director
Pittsburgh Center for Creative Reuse
Wendy Burtner-Owens
Steeltown Entertainment
Peter Humphrey
MacLachlan, Cornelius, & Filoni
Golan Levin
Carnegie Mellon University
Alexis McConville
Duquesne University
Dana Richardson
Tibbott & Richardson, PC
Lynn Sirinek
Family Hospice (Retired)
Donna Beer Stolz
University of Pittsburgh
Michelle Wion Chitty
Winchester Thurston School