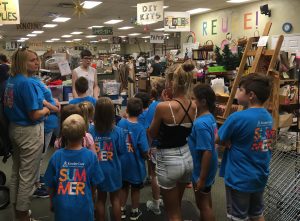 We welcome groups of all types for guided tours of our shop. This tour includes information about our history and mission, a short discussion about the importance of reuse, and a tour of our shop and warehouse.
Participants may then spend as much time as they wish exploring our shop.
Do you have questions about our field trips? Email us at programs@pccr.org.
Field Trip/Guided Tour
Our field trip/guided tour pricing depends on the number of participants.
Our base field trip fee is $50 + $4 per participant.
Each participant will receive a special individual bulk bag to fill with materials.
Add on a fun scavenger hunt activity for $50!
Additional bulk bags can be purchased in the shop.
Field Trip/Guided Tour Plus Creative Activity
For an additional cost, our Creative Education Team can facilitate a creative activity with your group.
Please plan to schedule creative activities before our shop opens at 10 AM or after our shop closes at 7 PM. Our workshop area is nestled inside our busy retail shop.
Unguided Group Visit
Are you planning on bringing a group to visit the shop? Let us know by filling out the form below or by calling 412.473.0100 so we can be prepared to accommodate your group. 
 Please complete our Program Request Form if you're interested in scheduling a Field Trip, Guided or Unguided Tour, and/or a Creative Activity.
Group Visit Guidelines 
Please introduce yourself at the front desk! This will help our staff know who your group is and who your group leaders are.
Group leaders must stay with any children under 12 at all times. Although our space looks fun and creative (and it is!), it can also be very dangerous for unattended children.
Please, no running! We don't want you or anyone else to get hurt.
Please keep voices down. We know it's exciting to be here!
If you pick up an item but no longer want it, please put it back where you found it. If you can't remember, give it to a staff person!
Please remember that this is an open-to-the-public-store. Other people are using this space to shop for things they need, too, so please treat this space and everyone in it with respect.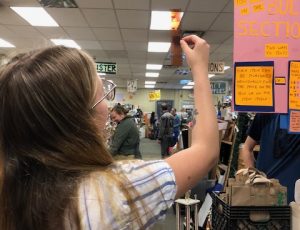 Want to make the most of your field trip to Pittsburgh? Coordinate a combined visit to both Creative Reuse AND Contemporary Craft! Get double the fun and hands-on learning while you're in the city. Ask us about this combined experience at programs@pccr.org.