Bookmaking kits are now available in the Creative Reuse online store! Sewing kits and diorama kits are coming soon. By purchasing a one-of-a-kind crafting kit from Creative Reuse, you support the hands-on learning of someone in your life while also keeping materials out of the landfill.
Although anyone can have fun with the materials in these kits, the instructions are primarily for children between the ages of 6 and 12. We won't tell you exactly what project you should make with your materials, but we do provide a handout with ideas and techniques to practice! You should feel free to supplement the materials in your kit with materials from home or from our online store.
If a community organization you know is interested in purchasing kits for distribution, please reach out to us via email at programs@pccr.org.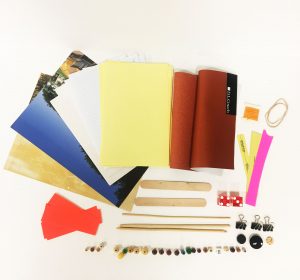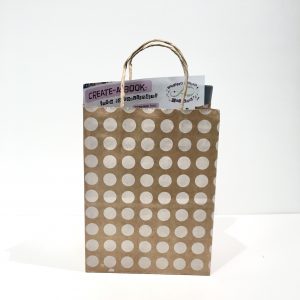 These project kits focus on the local effects of climate change in Pittsburgh. The city is faced with a warmer, wetter future… what are the ways we can minimize the effects and make a greener, healthier city?
The kits were designed in tandem with educators from the Carnegie Museum of Natural History and other organizations in Pittsburgh's CUSP network. CUSP stands for Climate & Urban Systems Partnership (learn more at cuspproject.org). Each ReMaker kits has a corresponding CUSP activity kit. The ReMaker kits can be stand-alone, or would make a great combination with the Museum's kit. The kits made their debut at the 2015 Alcosan Open House and Allegheny Green + Innovation Festival.
For information on purchasing kits, or having our Creative Education Team facilitate a program using CUSP ReMaker Kits, please email programs@pccr.org.
Here is a list of the CUSP ReMaker Kits we have developed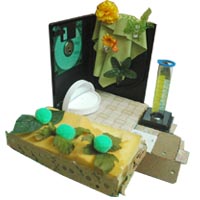 What would you do with an empty lot? This kit explores the possibilities by creating a small 3D model of vacant land and its climate-mitigating potential. You could make a dog park, a community garden, playground equipment, and add green infrastructure such as water barrels, bioswales and green walls. This kit is perfect for children (and adults) who like to build, imagine and explore tactile materials. No two lots come out looking the same! The kit includes reclaimed materials such as media cases, carpet, fabric and rubber samples, silk flowers and leaves, collage material, wire, stickers and various plastic bits and natural treasures.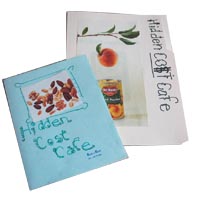 How can we be more conscious of the carbon footprint of our food? Imagine you opened a restaurant that informed its customers about the climate impacts of the foods they served. With this kit, you can create a menu or recipe book that reflects the carbon involved with what we decide to eat. This kit is a great addition to a unit about food, cooking, gardening and/or the food production cycle. Each kit comes with a notebook, folder, pens and markers, stickers, food collage material, recipes, lettering samples and gardening information. This makes for a great time designing and collaging, and encourages conversation about buying fresh, local food!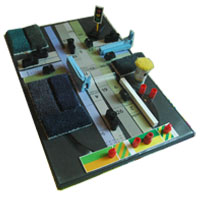 How can we create a balance of cars, buses, bikes and pedestrians on a busy city street? This kit lets you design that street. It encourages you to question travel habits and how they effect carbon emissions. This kit explores city planning and transportation planning. How many lanes will you have and how big will they be? What kinds of signs and regulations will you post? Where can pedestrians safely walk? Will there be any green space? This kit gives participants a chance to answer these questions. Each kit comes with a media case, transportation imagery, stickers, carpet samples, and pieces to represent cars, bikes, buses and pedestrians.
What are the possibilities of generating power by a renewable resource like wind? This kit gives you the materials to build your own wind turbine farm. Similar to making a pinwheel, you will learn how to make a paper turbine. Experiment with how to make it spin and display it proudly! This kit comes with calendar page squares, straws, wooden sticks, stickers, plastic stoppers, and a template for cutting a tri-blade turbine. You can make up to six turbines with each kit!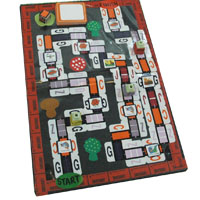 How can a game teach us about climate change? In this kit, you can develop a board and/or card game related to Climate Change. Will your game be about the effects of climate change on a local organism? Will it be a race to the finish, or more of a strategy game? Or will it be about finding green infrastructure around town? This kit relates to game design, game mechanics, and varied climate topics. This kit comes with everything you would need to prototype a game: a gridded board, media case, blank cards, wooden cubes, player pieces, stickers, environment-related imagery and markers.
Tiny Slimy Carbon Keepers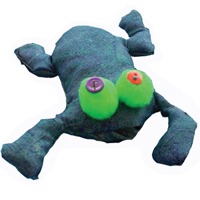 How does Climate Change affect local amphibious organisms, such as salamanders, frogs and fish? How might they react to changes to our rivers and streams? Salamanders especially serve an important purpose in the carbon cycle as "carbon keepers." They store carbon by eating leaf-shredding insects. With this kit, you can create your own carbon keeper. Great for units on fiber arts, sewing, amphibians and ecology. Included in this kit are things like: reclaimed fabric, fiber fill, buttons, pom-poms, yarn, foam, and sewing supplies.