Art Parties
Planning a crafty night out for your friends? Throwing a baby or bridal shower? Just want an excuse to bring people together? Collaborate with us to plan a party you'll never forget! Choose from our art party offerings or customize your own! We'll provide the materials, tools, and teaching artists – possibly even provide the venue! Take a look below to start planning your next event.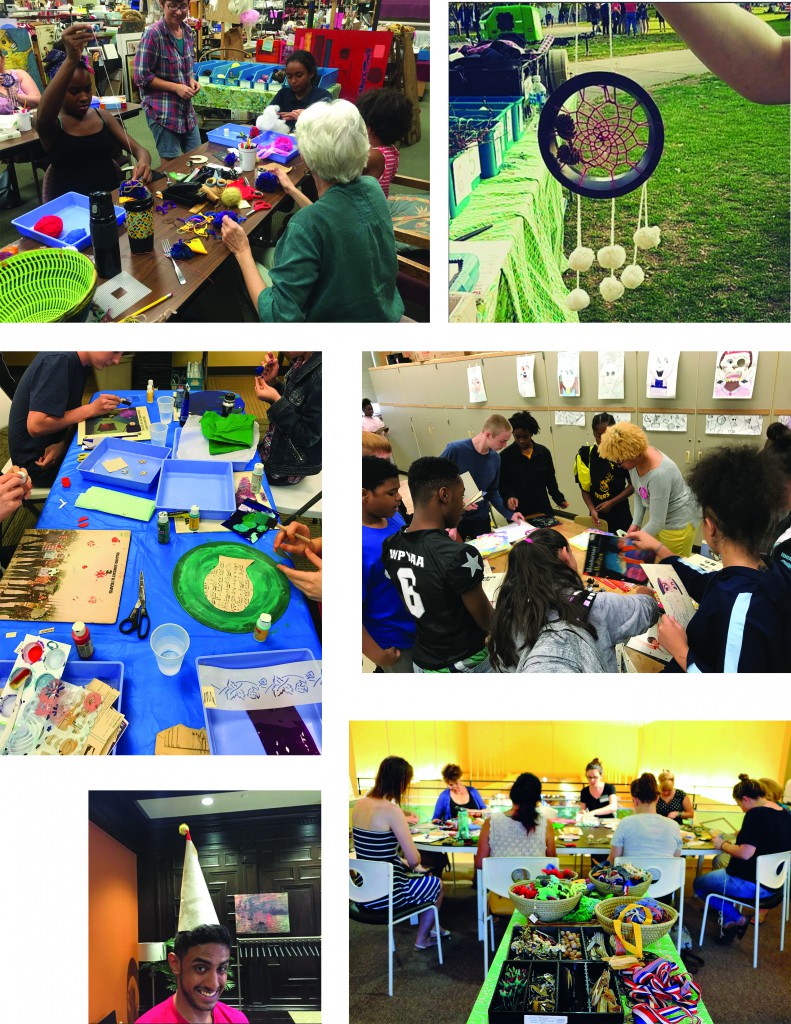 Art Party Offerings:
Weaving: Learn several techniques that you can use to create your very own loom and wall-hanging with reclaimed materials. Hone the necessary skills to create a sturdy, attractive, and successful weaving made from a variety of materials. (at least 2 hours recommended)
 Purse making: Create your very own hand-stitched bag of any type! From zippers to buttons to clasps to pockets and more, learn the skills necessary to create a sturdy, attractive, and successful bag! (2 hours recommended)
Jewelry making: Use reclaimed "alterna-beads," broken jewelry, and traditional jewelry findings to create your dream bauble.
DIY screenprinting: Explore the many possibilities of reclaimed materials as traditional screen printing supplies. Create your own image and screen print it onto the medium of your choice; bring a tee, a tote, a towel or use some of our reclaimed materials! (2 hours recommended)  
Bookmaking: Our Book-making workshop involves learning several methods of bookbinding (such as stick-bound, pamphlet, accordion and Japanese stab-binding). Make books from a variety of fun reclaimed materials. 
Mixed media art: Combine records, paint, fun collage materials and much more to create wall art, gifts, and keepsakes. Mixed media can be applied to many different surfaces so the possibilities are endless!
Hat making: Create your own headwear in this engaging workshop. There's no limit to the types of hats you can create; a fascinator to wear to high tea, a visor for outdoor sports, a holiday cap, or even a flower crown!
Costuming: Learn basic hand-sewing techniques and use them to create your own wearables. Make an event-specific costume or create a spur of the moment ensemble. 
Ornament + wreath making: This workshop focuses on making fun holiday decorations. Utilize obsolete media, collage materials, and fabric samples to make your creation!
Card making: Be prepared with a card for any situation! Combine used cards, vintage ephemera, stickers, paper, and other media to create your own cards. 
Stamp making: Make your mark! Design and create your very own stamps out of foam, rubber, wood and other reclaimed materials. 
Mobiles + windchimes: Wave it in the air like you just don't care! Create a fun and engaging piece to add visual interest to any room. Your mobile could include found objects from nature, miscellaneous plastic, even vintage images. 
Customize your own party: None of our offerings calling your name? Work with us to create the perfect activity for your party!*
---
Art Party Pricing:
$120/hour if location is within 5-mile radius of Pittsburgh Center for Creative Reuse and number of participants is 15 or less
additional $5 per each additional participant after 15

add .55/additional mile

maximum of 30 participants

Minimum program length of one hour
*Custom party prices may vary