Creative Reuse is a vital resource for Pittsburgh's art community. Artwork incorporating materials provided by Creative Reuse has been featured in the Pittsburgh Biennial, Emerging Artist of the Year exhibitions, installations commissioned for the Three Rivers Arts Festival, and many, many gallery shows throughout the Pittsburgh region. Our Artist in Residence program brings one Pittsburgh-based artist into the organization's unique center to present their work and connect with community members who might never visit a gallery or museum.
Creative Reuse is a space for creativity – a place where every purchase fuels creation, exploration, learning, expression, sharing, and giving. Visitors to our center often spend hours looking, thinking, and talking with other visitors and the artists on our staff. By bringing working artists into our space, we provide opportunities for reflection and conversation that spark new creative work and expand audiences for local contemporary art.
Announcing our 2019 Artist in Residence: Emily Sciulli!
Emily Sciulli is a sculptor and installation artist who lives and works in Pittsburgh, Pennsylvania. She creates artwork from reclaimed materials with a special focus on paper and other paper-based materials such as corrugated cardboard. Emily first came to sculpture through extensive experimentation and a curiosity about a range of materials. Her work transforms paper from its traditional form by using a variety of techniques including meticulous cutting and arranging, creating paper pulp to make three-dimensional forms and utilizing basic bookbinding techniques to construct her sculptures. 
Emily is a teaching artist at both the Carnegie Museum of Art and the Union Project. She received her MFA in Sculpture with a minor in Printmaking from Indiana University of Pennsylvania and her BA in Studio Art from Washington & Jefferson College.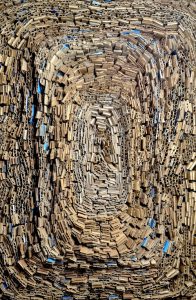 Emily Sciulli, Void, deconstructed Amazon prime boxes from personal purchases
Artist in Residence Program Timeline
July-August 29: art-making residency period

Thursday, August 29, 6-8pm: opening reception – celebrate reuse, art, and Emily at this lively opening reception. Food, drinks, and great times!

August 29-October 24: gallery show – free and open to the public 7 days a week, 10am-7pm

TBD: demonstration day – come see Emily at work in the gallery!

TBD: workshop – attend a hands-on workshop led by Emily!
Questions? Contact: Ash Andrews, Executive Director at ash@pccr.org
Gallery
Photos from Emily Sciulli's gallery opening on August 29th.