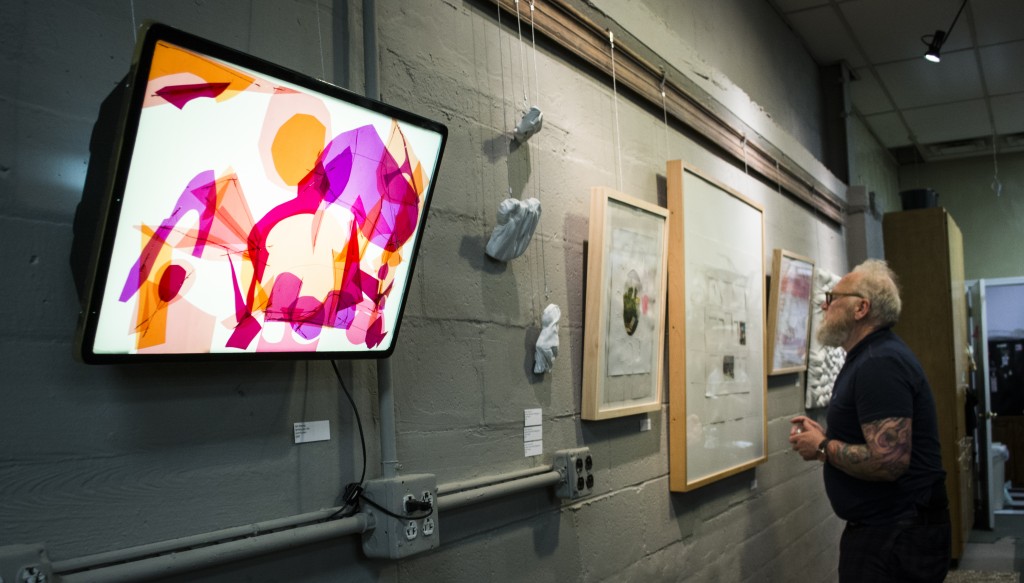 Creative Reuse Artist in Residence 2018
Creative Reuse has become a vital resource for Pittsburgh's art community. Artwork incorporating materials provided by Creative Reuse has been featured in the Pittsburgh Biennial, Emerging Artist of the Year exhibitions, installations commissioned for the Three Rivers Arts Festival, and many, many gallery shows throughout the Pittsburgh region. Our Artist in Residence program brings one Pittsburgh-based artist into the organization's unique center to present their work and connect with community members who might never visit a gallery or museum.
Creative Reuse is a space for creativity – a place where every purchase fuels creation, exploration, learning, expression, sharing, and giving. Visitors to our center often spend hours looking, thinking, and talking with other visitors and the artists on our staff. By bringing working artists into our space, we provide opportunities for reflection and conversation that spark new creative work and expand audiences for local contemporary art.
Who We Are Looking For
One artist will be selected for a two-month residency and two-month gallery show at Creative Reuse from June-October 2018. They will be awarded an $800 stipend and $300 worth of free materials from Creative Reuse in order to complete their proposal. The selected artist will hold one drop-in demonstration day and host one evening workshop during the residency. We are looking for one Pittsburgh area artist working in any visual discipline that can utilize reclaimed materials and highlight creative reuse. Priority will be given to artists within a 3-mile radius of Creative Reuse. Professional artists, emerging artists, and students are welcome to apply.
Project Timeline
June 16 at 11:59 pm: application and supporting materials due

June 17-22: finalists chosen and interviews held
June 24: chosen artist announced

June 25-August 25: residency period

July TBD: artist holds demonstration day

August 23: opening reception

August TBD: artist holds evening workshop

August 23-October 25: gallery show
Selection Process
A team of Creative Reuse staff members with professional art experience will collaboratively review applications. A rubric which scores applicants by quality of past work, history of reuse-focused art, potential for reuse-focused art, and a fully formed, unique, and engaging proposal will be used to help determine the finalists. 
How to Apply
Fill out the application at

https://goo.gl/forms/BHNqDLLtqleAD38s2

by June 16 at 11:59 pm. No late applications will be accepted.

Email up to 10 images representative of your work to

ash@pccr.org

by June 16 at 11:59 pm. Include a CV or resume if you have one.
Art and Gallery Information
We are looking for high-quality and skillfully-made art that fully represents the concept of creative reuse and primarily or preferably exclusively utilizes reclaimed materials.
Artwork created during the residency must be for sale (50/50 artist/Creative Reuse), must be appropriate for all audiences, and must be ready to hang or creatively displayed in the gallery, utilizing one light grey concrete wall approximately 21 feet long by 8 feet tall. A wooden beam runs along the top of the wall, and movable metal wires with hooks at the bottom can be placed anywhere along the wooden beam to hang your work. 3D work is welcome as long as it is able to hang against the gallery wall. Please keep in mind that our hanging system cannot accommodate very heavy pieces. Our gallery space is raw, full of character, and fully made with reclaimed materials.
We encourage you to check out our gallery space in person before applying. The gallery area is used by volunteers daily, often has pop-up bag sales in the space, and is sometimes used for meetings and workshops.
Questions? Contact:
Ash Andrews, Executive Director
ash@pccr.org
412-473-0100
We are grateful to PA Council on the Arts for generous funding to support this program.