Our small space is big on inspiration! Get your creative juices flowing when you host a class, workshop, meeting, info session, party, or another small event. We're located at 214 N. Lexington St. in North Point Breeze.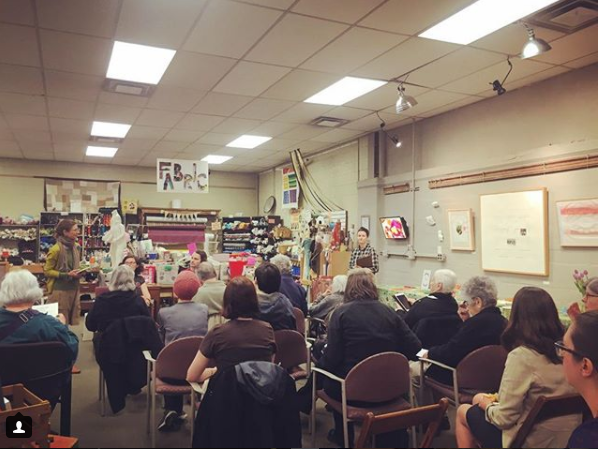 Events must be scheduled outside our shop hours – morning events end before 10:00 AM and evening events begin after 7:00 PM and end by 10:00 PM.
Our space can fit 20 guests in a banquet seating set-up, 30 for lecture style set-up, and 50 people if it's standing room only.

We have 30 chairs available.

Our space does not include a full kitchen but does offer a small kitchen with a sink, fridge, and microwave.

We have speakers and a sound system that plays Spotify premium, CDs, and Aux.

A liquor license is required to charge for alcohol in our space. According to Pennsylvania Law, IDs MUST be checked to verify that all those consuming alcohol are 21+.

All artwork and merchandise in the space must be respected.

Having a shop associate present to allow for shopping during your event, we charge an additional $25 per hour.
Space Rental Costs:
The cost of a space rental without the use of tools or materials is a flat rate of $75 per hour. 
We charge $8 per person for more than 8 people to use bulk materials or tools.

Our rental cost includes a clean-up fee.

You must be 18+ to rent our space.
Please fill out the rental request form. We will follow up with you about our space availability. Please email shop@pccr.org with any questions about renting the shop space.