Volunteer Overview

Creative Reuse relies on an amazing team of committed volunteers to accomplish our mission. We wouldn't be here without you!
Volunteers starting at age 10 can help in our shop accompanied by a parent. Anyone aged 16-18 can volunteer independently in the shop with the permission of a parent or guardian.
If you'd like to inspire creativity, conservation, and community engagement through reuse, please fill out one of the application forms below.
Why Volunteer?
Discount

: Get 50% off bulk bags and 20% off everything else in the shop!

Support Creativity and Reuse

: Help us divert useful materials from the landfills

Meet Cool People

: Meet other creatively-minded folks and build connections with your community.

Pizza

: Enjoy appreciation parties in our shop!
Volunteer Positions
Donation Volunteer

: Help us keep the Creative Reuse retail shop organized and awesome by measuring fabric, packaging small materials, sorting buttons and beads, reorganizing books and magazines, and more. Volunteer shifts are usually weekdays between the hours of 11 am and 5:30 pm. Shifts are a minimum of 2 hours long. The latest volunteer shift begins at 3:30 pm. Not able to come in at those times? Email the Volunteer Coordinator at volunteer@pccr.org to check about Sunday availability or consider another volunteer role!

 Click here for the Donation Volunteer Application!
**NEW!** Volunteer Shop Assistant (VSA): This position is for established Donation Volunteers only. VSAs help out in the Creative Reuse retail shop by accepting donations, assisting customers, operating the register, and more! Make new connections within the community and work in a creative and inspiring environment. A personal commitment of either one 4-hour weekly shift for 6 months or two 4-hour shifts per month for a year is required. There are two shifts available: 10:30 am-2:30 pm or 2:30 pm to 6:30 pm. If you are interested in becoming a Volunteer Shop Assistant, please fill out our Donation Volunteer application and indicate that you would consider taking on the VSA role! 

Click here to view the full position description

.
Creative Education Volunteer

: Help facilitate hands-on educational programs by welcoming and orienting participants, keeping tools and materials organized, inspiring participants, making examples, helping participants create one-of-a-kind masterpieces, and more.

Click here for the Creative Education Volunteer Application!
Community Ambassadors:

Support and represent Creative Reuse by posting about us on social media, putting up flyers for events, and telling your friends and family about who we are and what we do. You don't need to fill out an application for this position! Just help spread the word!
Internships:

 We also have several internships available for folks who are interested in a longer-term, more project-based commitment. We're always looking for students seeking course credit or anyone with specific skills interested in supporting Creative Reuse.

Click here

for a listing of our current internships.
Groups of Volunteers: Unfortunately due to space and staff limitations, we can no longer host groups of volunteers in our shop or warehouse except during special events. If you have a group of volunteers (age 16+) interested in volunteering at our next special event, f

ill out the group application (

click here!

). Our Volunteer Coordinator will send you emails periodically about upcoming events as they are announced. 
What to Expect
Donation Volunteers: Our Volunteer Coordinator will email you as soon as possible (usually within 5 business days) to schedule your volunteer orientation. Our orientations usually last 30-60 minutes and are based on your schedule! We will give you a behind-the-scenes tour, describe our volunteer program, have you sign some paperwork, and schedule your shifts if you would like.
Creative Education Program Volunteers: You will be contacted with the date and time of our next Program Volunteer Orientation. They are usually every other month depending on demand. After you're oriented, you will be added to an email list to receive alerts about future programs. Sign up to help with the ones that work with your schedule!
If you have any questions, please email volunteer@pccr.org or call (412) 473-0100.
Check out our Volunteer Information PowerPoint by clicking here!
Volunteer Spotlight 
Creative Reuse relies on the help of many volunteers. This month's volunteer in the spotlight is Roye!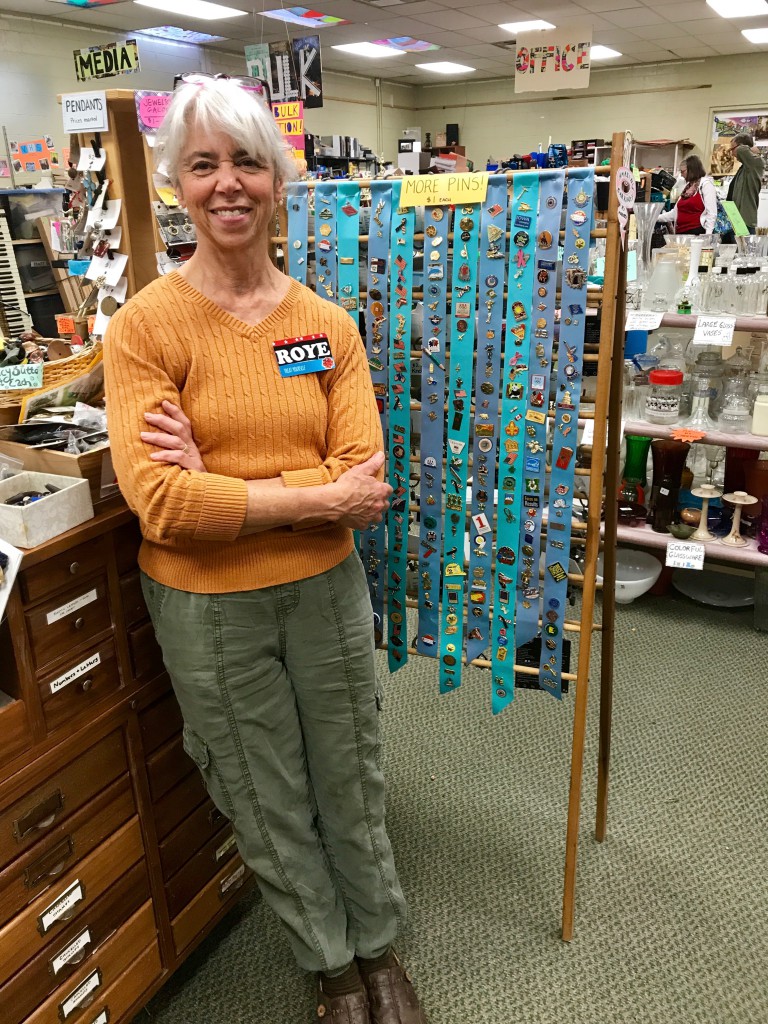 Roye started volunteering at Creative Reuse in February of this year, and she's been a huge help in our retail store ever since. As a Donation Volunteer, Roye works on processing our incoming materials so that they can be sold. Her work includes many tasks like bagging jewelry, creating displays, untangling yarn, and much more. Here's what Roye had to say about her experience so far!
Why did you want to start volunteering with us?
"I had just retired, so I was looking for a way to make good use of free time, and I've always felt depressed by the amount of waste in America. Here was a place that rescues refuse in order to support art and education. It seemed just right."
What is your favorite sort of project to work on? Do you have a favorite task?
"Having been a librarian for decades, I feel very much at ease classifying and organizing just about anything, but what I really love is untangling. It's a metaphor for living."
What's the funniest/weirdest/coolest item you've found in the shop?
"I think that item is still to be discovered since there are so many arriving all the time. My favorite thing so far is a tiny pin of the Statue of Liberty."
Lastly, what would you say to someone who is interested in getting involved with Creative Reuse?
"This is a totally unique place full of kind and interesting people and a fascinating collection of objects. It has the potential of being your best comfort zone."
Thanks for the kind words, Roye! There is always a ton of work to do here at Creative Reuse, and we need your help too! If you're interested in volunteering, please choose your volunteer or intern position and fill out your application today. Thank you for your support!