Welcome to Creative Reuse! We're still here, but we look a bit different.
Like you, we've had to reimagine how we operate during an on-going global crisis. We hope you enjoy our new offerings that ensure consistency, reliability, and safety during this time.
We anticipate re-opening for regular drop-in hours for the public sometime in late August/early September! Check social media and subscribe to our newsletter for updates.
IN-PERSON SHOPPING APPOINTMENTS
As we move closer to fully re-opening, we are offering in-person shopping by appointment only.  Each appointment is 45 minutes for up to two shoppers. Appointment slots are limited now, but we plan to offer more soon. You can sign up for an appointment here. A confirmation email with more information and instructions will be sent to you once your appointment has been approved.
Check out our online store, where you can browse hundreds of unique items from yarn, fabric, and sewing supplies, to hardware and home improvement items, to one-of-a-kind vintage treasures, and so much more! We are so excited to re-open our shop when it is totally safe to do so, but for now we are proud to offer our comprehensive online store as a temporary replacement.
PERSONAL SHOPPING SERVICE
If you've checked out our online store, and realized we haven't listed the items that you need, fear not! Simply fill out the easy online form and we will do our best to search our shop and collect the items you're after.
We offer custom kits, video tutorials, and live virtual instruction for organizations and individuals. If you're interested in a creative group activity, whether it's for a classroom, a community center, or a virtual party, we can help make it crafty and creative, all while fitting your needs and budget.
We also have a selection of pre-made video tutorials and project how-tos available for your inspiration!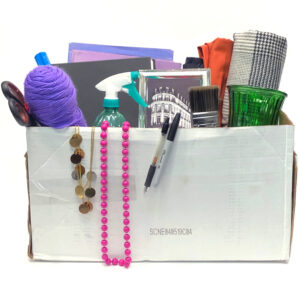 Have some cool items to donate to us? Take a look at our donation guide to find out what items we're looking for! Our materials donation program has changed due the on-going global crisis, but we're still scheduling and accepting donations in a limited capacity. To learn more about how to donate materials, click here. And don't forget about our wish list items!
MAKE A FINANCIAL DONATION
We welcome financial donations through PayPal Giving Fund, through our online store, and by checks via the mail. Financial donations directly help us make it through this trying time, and we appreciate your gift of any amount. Please contact Executive Director Ash Andrews at ash@pccr.org if you would like to further discuss your financial donation.
All 5 staff and 12 board members here at Creative Reuse are working hard to bring you the safest version of our services during this challenging time. Thank you for your patience, understanding, and support as we do our best with limited resources.
We know what a gift it is to be able to continue our operations during this time. Because of your online store purchases, generous financial donations, and constant outpouring of love and support, we're still here. Although these are profoundly hard times, we are so honored that we are part of your life right now, and we thank you for being a part of our creative community. 
Thank you so much for your understanding as we continue to prioritize safety during this uncertain time. We are certain that there are many changes to come in the future months, and we hope you check back here for updates. We are truly delighted that we're still here and that, with your help, we'll continue to be here for years and years to come.
About our Organization
Pittsburgh Center for Creative Reuse is a non-profit that inspires creativity, conservation, and community engagement through reuse.
We operate a non-traditional art supply shop located at the intersection of Wilkinsburg, Homewood, and Point Breeze, where people can donate used art and craft supplies, as well as shop for these unique items all in the same location. We also facilitate hands-on creative programming that educates the public about the benefits of reuse for the environment, community, and self.
We see reuse as a vehicle for boosting self-confidence, learning new skills, and creating opportunity for all.
General Policy: No sexism. No racism. No ableism. No ageism. No homophobia. No transphobia. No hate. We believe that people from marginalized communities deserve to be supported, respected, and safe.