To contact us by email, please route your inquiry accordingly: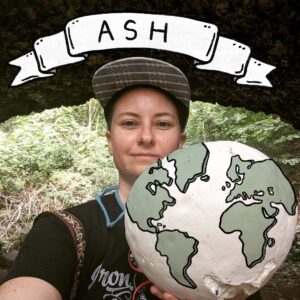 ASH ANDREWS

Executive Director
they/them
Honorific: Mx.
Ash Andrews first became interested in sustainability and creativity as a youth while using household discards like bottle caps, film canisters, and pistachio shells to create complex imaginary worlds. It was only after setting off to explore the real world when Ash truly began to see the global ecological connections between "making do" and the transformative potential of reuse and creativity for the environment, community, and self. After an immersive experience in various permaculture communities in Hawaii, Ash moved to Pittsburgh to continue their exploration of sustainable, thriving communities. Ash became the executive director of the Pittsburgh Center for Creative Reuse in 2016, after working at the center in various roles for 5 years. In 2020, Ash was named a 40 Under 40 honoree by Pittsburgh Magazine. Follow along with Ash's adventures on Instagram at
@ash_and____
.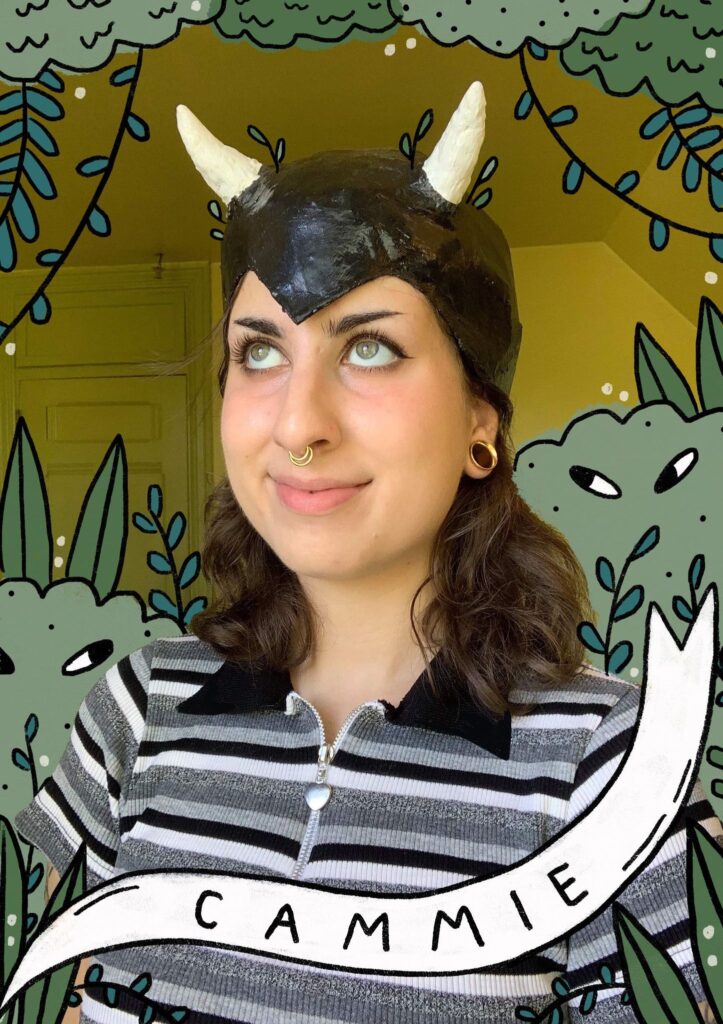 CAMMIE BRADY

Creative Manager

she/her
Cammie is the Creative Manager, and has worked at Creative Reuse for over eight years! Wow! She has a passion for all things camp and kitsch, and likes to draw, paint, and create makeshift costumes from reused materials. Cammie believes that material reuse is a way to combat the current climate crisis and also keep art-making accessible to everyone, plus it's just, like, totally cool, dude.
Fun facts: Cammie loves watching movies (especially horror) and has a cat named Griffin who is sort of mean (but very cute.)
You can see Cammie's art on her Instagram: @Cammmieb.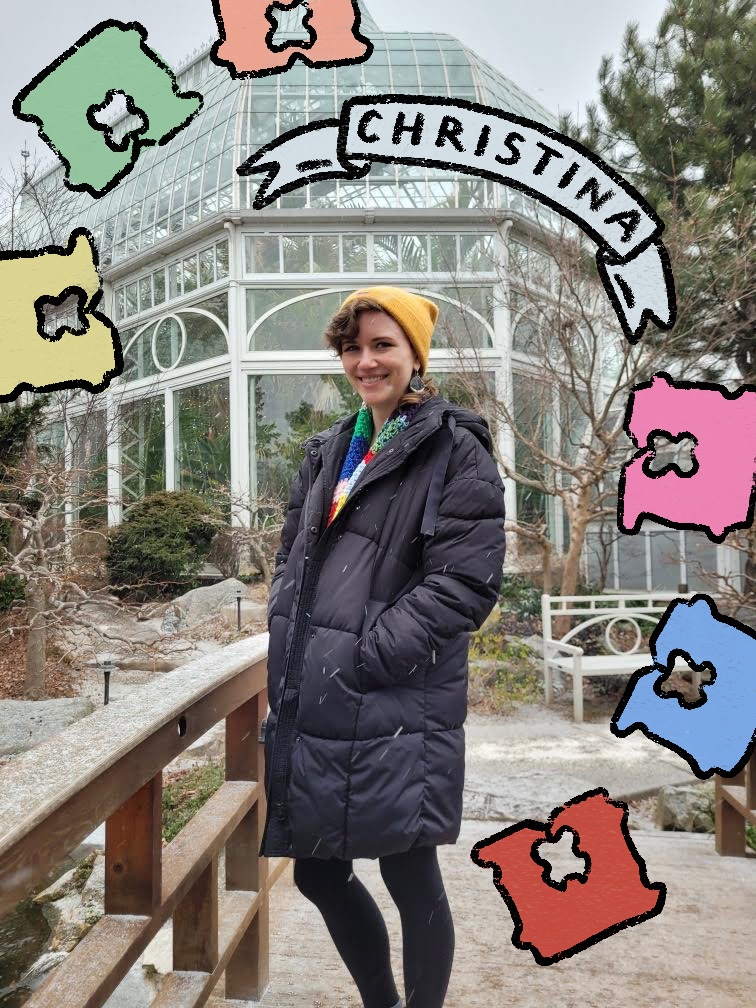 CHRISTINA HANSEN

Shop Backup

they/them
Christina is a life-long reuse, upcycling, and preservation enthusiast with a professional practice in fine art conservation. When they're not busying themselves learning the day-to-day operations of Creative Reuse, they can be found working on regional restoration projects including traditional paintings, public outdoor sculpture, historic decorative arts, and beloved garment repair. Christina has found their place in Creative Reuse, at the crossroads of their formal materiality studies, purposeful repetitive processes, and a "use what ya got" philosophy. They have lived in the Pittsburgh region for 10 years, by way of Florida's Atlantic coast. Find them scouring the bottom shelves for treasures, with their nose in a book, or on their (much neglected) Instagram @christina_snacktasha.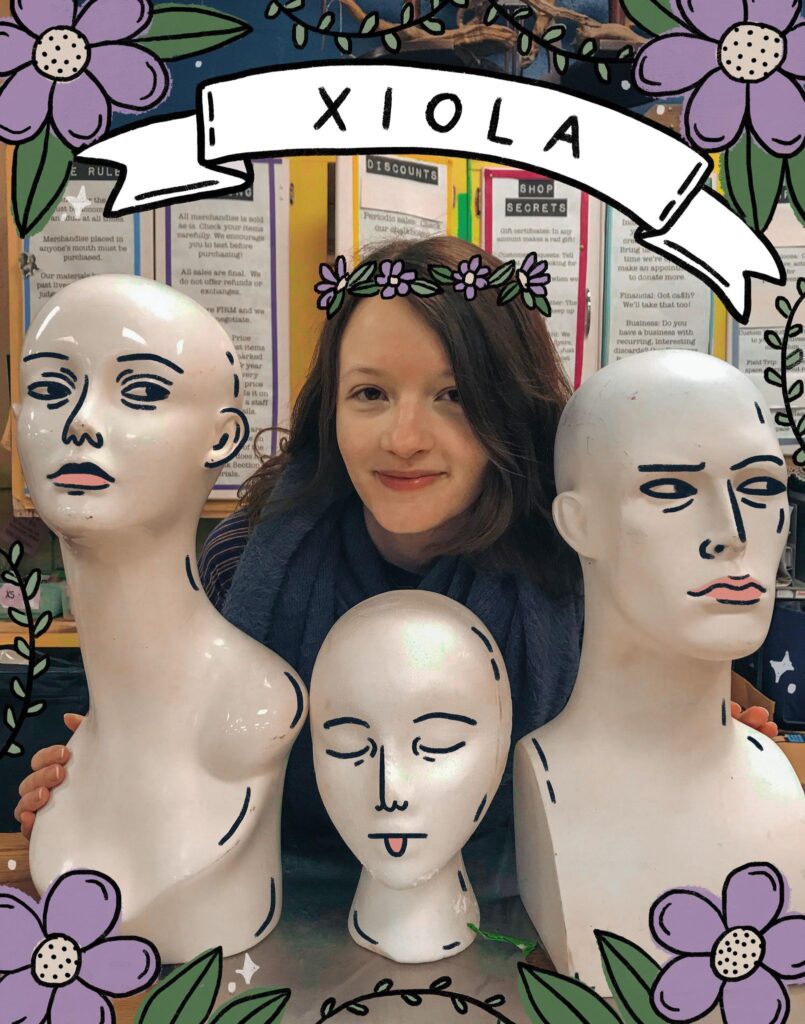 XIOLA JENSEN

Shop Manager

she/her
Honorific: Ms.

Back in 2017, Xiola started working with Creative Reuse through the Chatham University work-study program. When she graduated in 2019, she was hired to work in the shop! Since then, she has taken on the role of Shop Manager and Marketing Assistant. Her hobbies outside of work include drawing and journaling, so she can often be found lurking in the scrapbook and art supplies sections of the shop. Xiola understands the importance of reusing materials as a way to reduce waste, and she loves helping others do the same at Creative Reuse. Check out her illustration work at 
xiolajensen.com
 or on Instagram: 
@xiolathefairy
.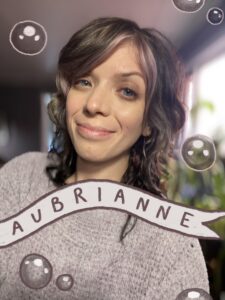 AUBRIANNE O'DONNELL

Operations Assistant

she/her
Honorific: Ms.

No stranger to reuse, mending, and upcycling, Aubrianne has a strong passion for personal creativity and a commitment to sustainability in everyday life. Beyond assisting with the administration of Creative Reuse, she keeps busy with many fancies; mainly bookbinding, filling those books, reading (almost always horror/sci-fi), and handling the intricacies of running a small business. You can follow her aromatic endeavors on Instagram at 

lavationsoaps

.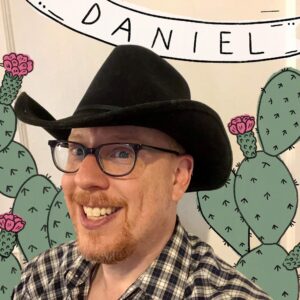 DANIEL SHAPIRO

Materials Coordinator

he/him
Honorific: Mr.
Daniel is the Materials Coordinator and has worked at Creative Reuse since 2012. He likes to create found object assemblages with Western and/or animal themes. His favorite materials come from the drawers of the card catalog (plastic animals, googly eyes, and other bits 'n pieces). Daniel also likes to bake and recently he's been experimenting with various flavor combinations. You can find Daniel's creative projects (and cupcakes) on his website danielshapiroart.com and Instagram @cowboygoods.
MATT VITUCCIO

Shop Backup

he/him
Honorific: Mr.
Matt believes that artistic expression is one of humanity's greatest joys, and that accessibility and encouragement are key factors in making that expression regular and practical. His favorite sections at Creative Reuse are the traditional art supplies, the bulk office supplies, and the vintage items. As a Shop Assistant he enjoys discovering the histories of unusual items, talking about projects and supplies with customers, and generating ideas of his own while spending time in Creative Reuse's inspiring environment. Matt is a cartoonist and musician, and his work can be found on Instagram @mattvituccioart, @brightsidepgh, and @sleepingwitchandsaturn.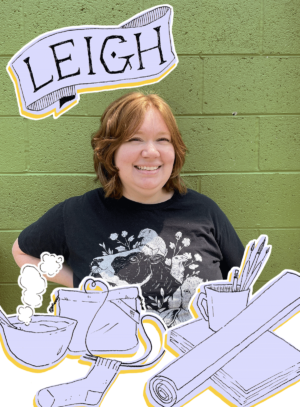 LEIGH WILLIAMS

Shop Backup

she/her
Honorific: Ms.
Originally from the deep south, Leigh has been in Pittsburgh since 2020 and at Creative Reuse since 2023. Leigh's interest in sustainability runs deep and she believes that reuse and repair are the most direct way we can lower our impact. Between her formal art education, professional marketing/museum/production experience, and many, many hobbies, she has accumulated many nuggets of knowledge that are now put to good use at Creative Reuse. Leigh's hobbies include illustration, fiber crafts, sewing, vintage jewelry/artifact collection, and gardening. Her favorite sections of the shop include the vintage and fabric sections. Check out her work on Instagram: illustrations @leighyostwillz and fiber ventures @leighknits.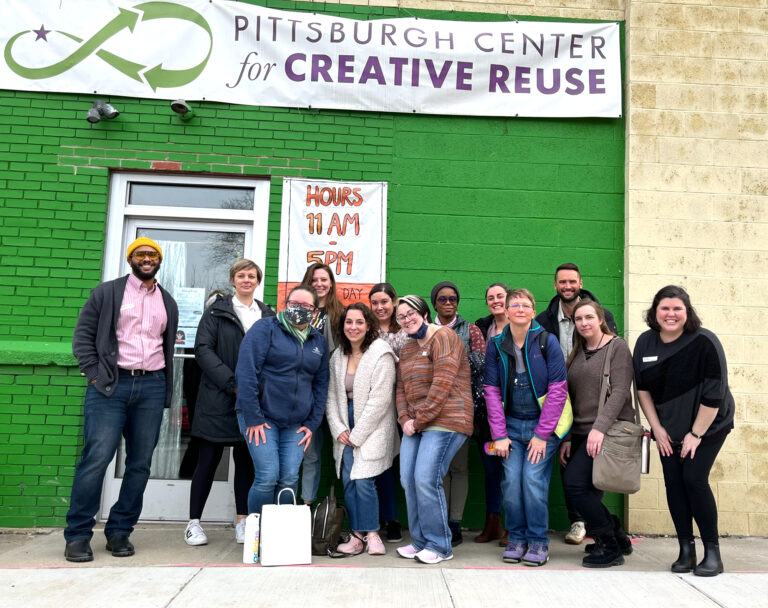 Creative Reuse also has a dedicated, creative, and engaged Board of Directors:
Kelsy Black, Board President, Luma Health 
Sarah Kipling McKay, Board Vice President, The Education Partnership 
Brian Savolskis, Board Treasurer, Highmark Health / HM Health Solutions 
Omoye Aikhuele, Board Secretary, City of Pittsburgh
Michelle Wion Chitty, Winchester Thurston School
Kayla Coley, Pittsburgh Cultural Trust

Alicia Donner, Financial Empowerment Center 
Raphaela Esposito, Selvedge Threads LLC
Shelby Mastovich, Pittsburgh Technology Council 
Sarah Mayer, Shift Collaborative 
Erin Palmer, Public Consulting Group
Maggie Zurbruegg-Ramey, Kendra Scott