Pittsburgh Center for Creative Reuse promotes resource conservation, creativity, and community engagement through material reuse.

In the shop this month…
JULY 4: Shop Closed for Independence!
Creative Reuse will be closed on Friday, July 4th. Come see our boat/scrappy pile of buoyant things in the Anything That Floats race! Here's the schedule for the Regatta.
JULY 10: Open Studio
2nd Thursday of every month from 6-8pm
This month's special project is an Art Swap! Bring your unwanted art and swap it for someone else's unwanted art – all for free! Leftovers will be donated to Creative Reuse.
Our special musical guest for the evening is our friend, DJ Smokifantastic! Bring a few bucks for one of her awesome CD compilations!
Open Studio Night is an after-hours gathering and potluck for creative minds 18+. Some people bring a half-completed project to finish while others come empty handed and start something new. It's really what you make of it!
Click here for the Facebook event!
JULY 13: Shop Closed for Staff & Board Retreat
Creative Reuse will be closed on Sunday, July 13. Sorry for the inconvenience! We must discuss and plan all the greatness that the future beholds for Creative Reuse.
Just some of many interesting items we've gotten in lately…
Upcoming Not-To-Be-Missed Event!
AUGUST 21: SAVE THE DATE
Wigle Bantam Night Benefitting Creative Reuse
When: Thursday, August 21 from 6-9 pm
Where: Wigle Whiskey Garden & Barrel House (1055 Spring Garden Ave, in Pittsburgh's Northside neighborhood)
Mark your calendars, folks –this is gonna be fun! Event details to follow.
What we've been up to recently…
ACCESSIBILITY:
Creative Citizen Studios led our team in an accessibility training session on June 16. Kirsten Ervin helped us to imagine our full potential as the most welcoming place in Pittsburgh. Find out more about the wonderful things that CCS does here: http://www.citizenstudios.org/
BAR CRAFTS:
Per usual, Bar Crafts at the Allegheny Wine Mixer  was a great time! The theme for the June 29th event was Goth/Renaissance/Black Sabbath projects. Here are a few of the things that were made. We'll keep you posted on when the next event will take place.

Bar Crafts patch made from fabric samples (of which we have MANY)!
OUTREACH PROGRAMS:
June was a wonderfully busy month for our Outreach Programs staff and volunteers. We got to work with so many incredible creative people.
The biggest thing we took part of in June was the Three Rivers Arts Festival. We met over 5000 community members during our 10 day stint in the festival's Creativity Zone. Those community members used nearly 1000 pounds (almost half a TON) of reclaimed materials. Check out some of the beautiful things they made in this album on our Facebook page. A million thanks to our staff, interns, and volunteers for all of their hard work! A million more thanks to the Pittsburgh Cultural Trust and the amazing volunteers they provided.

Happy times at the Three Rivers Arts Festival!
Here's a list of some of the other delightful people we had the opportunity to work with in June:
Wilkinsburg Tigers Afterschool Program had a Reuse-a-Palooza event to celebrate the end of the school year
Kelly Strayhorn Theater Full Bloom Summer Dance Party goers made some very fashionable party hats
Community Library of Allegheny Valley (article & picshere!) hosted a Reuse-a-Palooza as part of their Summer Reading Kickoff
A wonderful group of future educators from Pitt did some hands-on learning about the power of creativity and play in one of our teacher workshops
North Versailles Public Library hosted an upcycling workshop as part of their adult summer reading program
Interested in having a Creative Reuse program at your event/organization/school/library/group? Fill out our scheduler form online!

Future teachers playing!
ART STUFF!
Shop Manager Ashley Andrews and Board Secretary Ashley Andrykovitch make up the mega-art partnership, The App Expo. Their recent art residency in Las Vegas resulted in a documentary, and a 2 minute clip from that film is now a finalist in the Carnegie Musuem's upcoming film festival! Help them win an award by voting for their short, "The App Expo Presents Solar System Computing" HERE! All are invited to attend the live screening of all the finalists on July 10th (info HERE). Know someone who likes art, film, technology, and humor? Share the video with them and ask for their vote!
Thanks for being your marvelous crafty artistic selves, Creative Reuse community! You're the BEST. 
June 2014 Newsletter
Gratitude…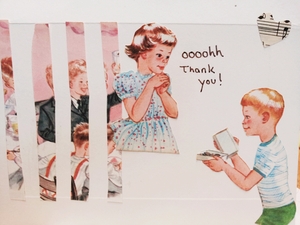 We are so grateful to all of our community members who donated to Creative Reuse during last month's Pittsburgh Day of Giving!  With your help and a match from the Pittsburgh Foundation, we raised $3,818!  Because of your support, we were able to replace all of the light fixtures in our shop with brighter, more energy efficient fluorescents.  It's like sunshine in here!  Donors should watch their mailboxes for sweet reusable collage cards handmade by local artists who happen to be our staff members and awesome new interns.  Missed the Day of Giving?  That's ok.  You can always mail us a check or drop a dime in the donation jar.  Your contributions really matter.  Stay tuned for more fun(d)raising dates this summer!
Thanks also to you, your mom, and the Allegheny Wine Mixerfor being part of another successful Creative Reuse Bar Crafts on Mother's Day. Check out photos from the most recent Bar Crafts event here.
And thank you so much to the SVP Kids for awarding us a $300 grant to support volunteer appreciation at Creative Reuse! We appreciate your dedication to service and to the community. You are amazing!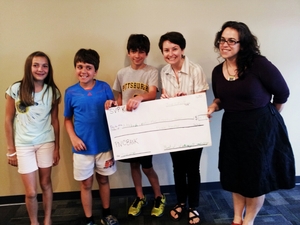 The SVP Kids present Ashley & Nora with a big check!
Creative Reuse Welcomes our
Summer 2014 Interns!
The interns are here! The interns are here!  Our shop and programs will benefit from the brains, brawn, and innovation of four amazing summer team members.  All of us at PCCR are delighted to welcome Erika Renee Cox, Madeline Moyta, and Megan Novak, and we look forward to the arrival of Joe McMahon a little later in the summer.  Thank you to everyone who applied for our summer internship positions. We were honored to have so many smart, creative folks interested in helping us achieve our mission, and we wished we had room for all of you.  We are filled up for now, but if you are looking for great fall service learning opportunities, have a look at our internship information, sign up to volunteer, and come introduce yourself this summer.  We'll post fall positions in late July.
In the shop and out in the world…
The last day of our EPIC FABRIC SALE is today — Tuesday, June 3rd!!! Come and fill your bag with delightful fabric, fabric notions, yarn, patterns, and lots of other surprises. Your 1st, 2nd, and 3rd bags are $5 each. After that, additional bags are just $3 each! We put out new fabric daily. And, if that weren't enough to hook you, every single thing in our Fabric Section is 20% off. Come visit us every day from 11am – 6pm for all your fabric finds!
Are you excited for this year's Three Rivers Arts Festival or what!? We sure are. Come down and create magical things out of reclaimed materials with our outreach staff and volunteers. You will find us in our festival tent in the Creativity Zone in Point State Park, from 12-6 pm all ten days of the festival (June 6-15)!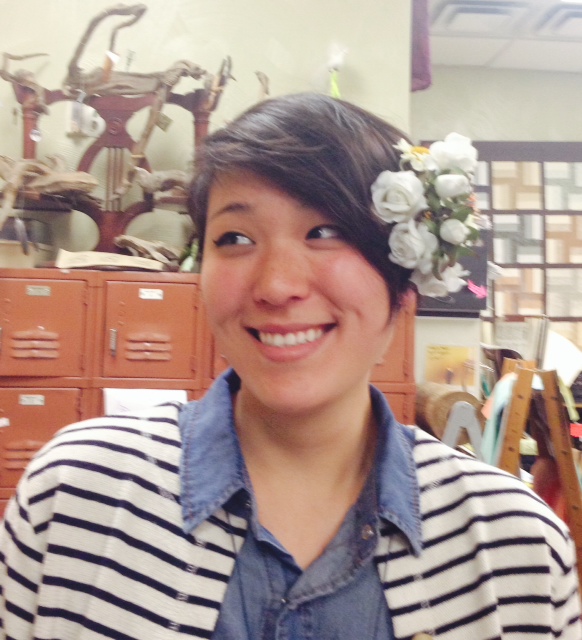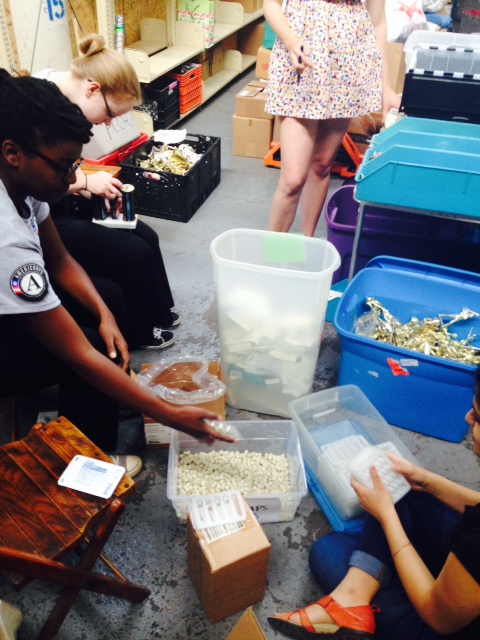 Volunteers helping us get ready for Three Rivers!
Come make a beautiful flower headress like Chriss' at our tent.
June's Open Studio Night (Thursday, June 12 from 6-8 pm) will be dedicated to dads, grandads, foster dads, etc. Whether it's your own pop or one you admire, come on down and create a handmade token of affection just for him. Maybe a card, a collage or a special trophy. If you make it with us on Thursday, it will be ready for June 15th, Father's Day! Or, as always, you can make anything you'd like, for mom or not. The bulk section is free to use for projects you are making that night, as are the tools of the trade. You can bring a half-completed project to finish, or come empty handed and start something new. It's what you make of it (and we know you will make it awesome).
Were you one of the nearly 300 people who took oursurvey last month? Please remember that your FREE medium bulk bag offer expires on the last day of June. Thanks again!
Help us reach 5,000 likes on our Facebook page. We're nearly there! If you follow us on there already, you know how fun we are. We'd love if you'd let your friends know too.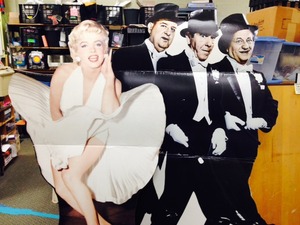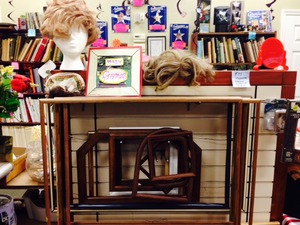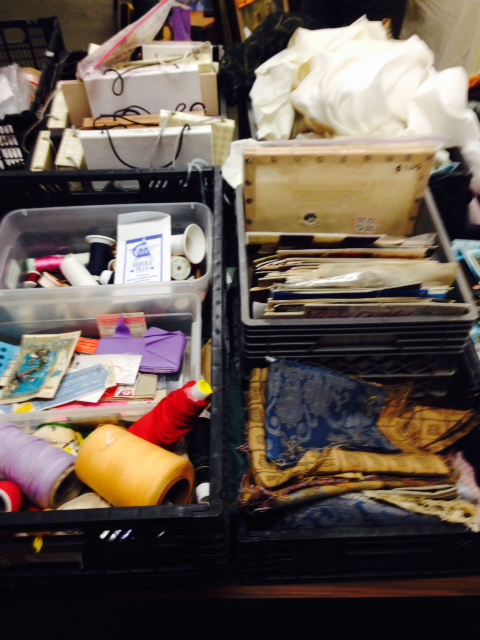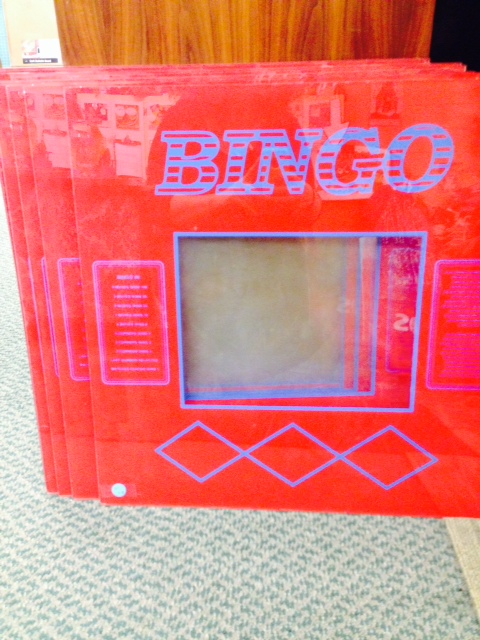 Just a teensy fraction of the treasures to be found in the shop right now!
May 2014 Newsletter
We love you — yes you.
YOU are one of our greatest supporters — we can tell, because you opened this email and you're reading it right now, when we know you have lots of other things you could be doing.  You shop with us, you bring us awesome stuff, maybe you are one of our community partners.  You probably even took the time to complete our survey.
Next Tuesday, we hope you will continue your support by donating to Creative Reuse during the annual Pittsburgh Day of Giving, May 6th between the hours of 6am and midnight.  Your contribution that day will help us raise additional funds with a match through the Pittsburgh Foundation.  If we reach our fundraising goal on Tuesday, we'll be able to replace 52 failing light fixtures to make our shop brighter, more beautiful, and energy efficient.
Are you or do you know a student looking for an internship?
Interns have been a vital and valued part of our recent growth, and we currently have opportunities for committed, creative folks who would like to use their skills and energy to help us build a more creative and sustainable Pittsburgh. Although these volunteer service-learning positions are designed with students in mind, we will gladly consider both credit-seeking and non-student applicants. Learn more and apply here.
Take the Creative Reuse Survey (and get a free bulk bag)!
We are so grateful to the 170 (and counting!) of you who have already shared your insight with us by taking our first everCommunity Survey.  If it's still on your to do list, why not do it now?  It takes just 10 minutes (unless you want to write us a novel, which would be fantastic but would take longer), and in appreciation for your "two cents," we'll give you a free medium-sized bulk bag.  Take the survey! It's fun and has pictures of donkeys.
Volunteering at Creative Reuse
It feels good to volunteer for a place you love. If you fill out our volunteer application here, you will soon get an email from us inviting you to our next volunteer orientation.
What's happening at the shop this month…
Open Studio Night 
Date: Thursday, May 8
Time: 6-8 pm
Creative Reuse Open Studio Night is an after-hours gathering for creative minds 21+! Pay-what-you-can, potluck, and BYOB.
May's Open Studio Night will be dedicated to moms. Whether it's your own mom or a mom you admire, come on down and create a handmade token of affection just for her. Maybe it's a card, a piece of jewelry, a special trophy, or a piece of fabric art … whatever you think she might like. If you make it on Thursday, it will be ready before you take her to Bar Crafts on Sunday! Or, as always, you can make anything you'd like, for mom or not. The bulk section is free to use for projects you are making that night, as are the tools of the trade. You can bring a half-completed project to finish, or come empty handed and start something new. It's what you make of it (and we know you will make it awesome).
Creative Reuse Epic Fabric Sale!
Dates: Tuesday, May 27 – Tuesday, June 3
Time: 11am – 6pm every day
Experience row upon row of fabric delights in our epic Fill-a-Bag Fabric Sale! New material put out daily. Fill-a-Bag deal includes:fabric sample books, patterns, sewing notions, remnants, yardage, how-to books, and lots of special finds! Enjoy 20% off everything in the Fabric Section, too!
We'll be out in the world at events too, you should join us…
Bar Crafts! Mother's Day! BYO-MOM (Bring Your Own Mom)
Date: Sunday, May 11
Time: 6-9 pm
Location: The Allegheny Wine Mixer, 5326 Butler St., Pittsburgh 15201
Join us for BAR CRAFTS: a fun ol' time for creative adults. $5 gets you a project kit of your choosing. This month, we'll be making sweet crafts that feature wearable art like earrings, necklaces, ball caps, and fancy pin buttons!
Marathon Day in Homewood!
Date: Sunday, May 4
Where will you be for Marathon Day? On the day of the Marathon, we'll be joining GTECH and Operation Better Block's Junior Green Corps in a space adjacent to Homewood's water station at North Lang Avenue and Frankstown Road. We'll be on hand with a creative reuse project, and assisting in the assembly of a "junk" collage (using recyclables, found, and reclaimed materials).
Food Revolution Pittsburgh Day
Date: Friday, May 16
Time: 3-6 PM
Location: Barack Obama Academy of International Studies
We'll be participating as an exhibitor this year at Food Revolution Pittsburgh Day on from 3-6 on May 16th, at Barack Obama Academy of International Studies. Come out for free eats and lots of fun! Creative Reuse will be representing with a hands-on art activity using some of our beautiful reclaimed materials. Information about how to support the Food Revolution Pittsburgh Cooking Club can be foundhere.
Endless thanks for your love and support!
We'll see you soon.