Faye Miller and Rachel Dennis started Creative Reuse Pittsburgh in late 2007. Faye had worked as a manager (and acting Executive Director) for two years at the Scrap Exchange in Durham, North Carolina, and believed (correctly) that a similar model would work in Pittsburgh. Faye and Rachel began with a business plan and a borrowed van, and added program capacity, storage, then a small retail space. In 2008, Creative Reuse Pittsburgh became a project of the Pennsylvania Resources Council, under whose fiscal sponsorship it remained until we achieved independent 501(c)(3) status in 2013. The organization incorporated in 2010 as Pittsburgh Center for Creative Reuse. Our Executive Director progression starts with Faye Miller from 2007-2011, Breen Masciotra from 2011-2012, Erika Johnson from 2012-2016, and Ash Andrews from 2016-present.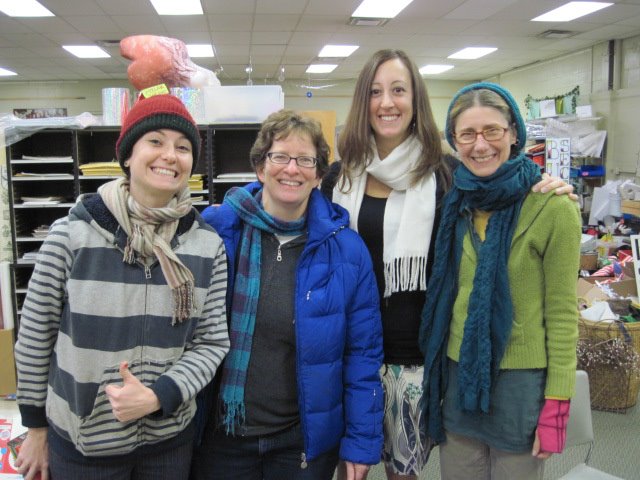 All of the Creative Reuse Executive Directors: (from left) Ash Andrews, Faye Miller, Breen Masciotra, and Erika Johnson
Our first program was a public creative reuse activity at First Night 2008. The organization has a strong relationship with the Pittsburgh Cultural Trust, and has anchored the Creativity Zone at every Three Rivers Arts Festival since 2008. Program service fees were the organization's primary source of revenue until 2011 when retail sales surpassed fees for the first time. Construction Junction donated shop and storage space to the organization from late 2009 until July of 2011, when we leased our current 4,200 square foot retail shop with attached office and warehouse space on the first floor of the Construction Junction building. While we are a separate organization, we collaborate and benefit from our location in the Construction Junction "Reuse Mall."
Earned income from material sales and program service fees comprised 75 percent of our 2018 operating budget. Additional funding over the years has been provided by the Alcoa Foundation, the Sprout Fund, the Heinz Endowments, the Laurel Foundation, PNC Charitable Trusts, the McSwigan Family Foundation, the Grable Foundation, PA Council on the Arts, Department of Environmental Protection, and generous individual contributions from many community members.
We employ 5 staff members and a team of several contracted teaching artists. Volunteers and interns are an integral part of our operation, providing essential support for our shop and creative programs.