Currently, our in-person shop is closed, and in-person events and programs are cancelled. Out of care and concern for our community, our staff, and our volunteers, we will not be open to the public in our physical space until it is safe to do so. We are keeping a close eye on the ever-changing situation in Pittsburgh and have plans in place to eventually reopen. Please check back here and on social media for updates. We can't wait to see you again!
Pittsburgh Center for Creative Reuse offers a wide array of affordable materials for sale in our non-profit retail shop.
Everyone is welcome in our shop, where you'll find all kinds of interesting materials like art and craft supplies, fabric, yarn, picture frames, beads, office supplies, artwork, paper, design samples, and various odds and ends. Our inventory is based on business and individual donations, so it changes every day.
The shop is open to the public every day from 10:00 a.m. to 7:00 p.m. Please stop by to check out what's new and tell us what you're making. Photographs of recent additions and customer projects are frequently posted on our Facebook page.
We accept both cash and credit (VISA, Discover, Mastercard, and AMEX).
Bulk Section
Our Bulk Section is a unique part of our shop where you can fill up a small, medium, large bag (pictured below), or bulky bulk (it's huge!) bag with all kinds of interesting materials for just $3, $6, $9, or $20. Popular with teachers, families, and creative people, our Bulk Section is one of most cost effective ways to get large quantities of materials for your creative projects.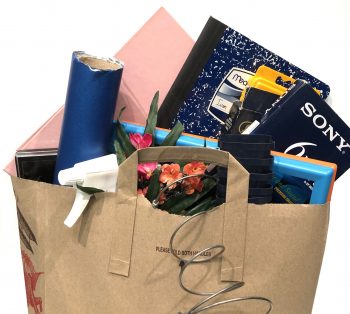 Accessibility:
We're here for you! We are committed to your comfort and full enjoyment of our space. Please contact us if you have questions or requests at shop@pccr.org.
Bus information:
Penn Ave & Lexington St (71C – from Oakland and Wilkinsburg)

N Homewood Ave & Thomas Blvd (74 – from Squirrel Hill and Larimer)

East Busway, Homewood station (EBA – from Swissvale and Downtown)