Pittsburgh Center for Creative Reuse offers a wide array of affordable materials for sale in our non-profit retail shop.
Everyone is welcome in our shop, where you'll find all kinds of interesting materials like art and craft supplies, fabric, yarn, picture frames, beads, office supplies, artwork, paper, design samples, and various odds and ends. Our inventory is based on business and individual donations, so it changes every day.
We'd like to sincerely thank everyone for their patience as we navigate our reopening phases, for following our mask wearing policy, and for supporting our decision to prioritize the health and safety of our community, volunteers, and staff during this unique moment in time.  
Please sign up for our newsletter (see below) for weekly updates. Also, check our Instagram or Facebook accounts to check out what's new and tell us what you're making. Photographs of recent additions and customer projects are frequently posted to our social media.
We accept cash, credit, and Creative Reuse gift certificates (buy one here).
Drop-in Shopping hours are here! We are open to the public weekly Saturday, Sunday, Monday, Tuesday, and Wednesday 11 AM – 3 PM. No appointment necessary.
The number of customers inside the shop at the same time will be limited.
Masks are required for everyone regardless of vaccination status. (No gators or face shields, please.)
In-Person Shopping appointments for up to two people are available for a private shopping experience. These are held outside of our new Drop-in Shopping hours. Book an appointment here.
Material donations will remain by appointment only. You can schedule a donation here. No walk-in donations will be accepted during Drop-in Hours.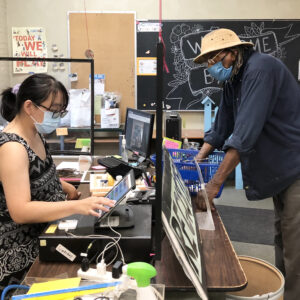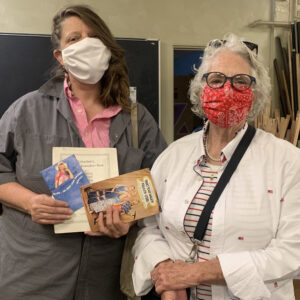 As we move closer to fully re-opening, we are offering in-person shopping by appointment only.  Each appointment is 45 minutes for up to two shoppers. You can sign up for an appointment here. A confirmation email with more information and instructions will be sent to you once your appointment has been approved.
Check out our online store, where you can browse hundreds of unique items from yarn, fabric, and sewing supplies, to hardware and home improvement items, to one-of-a-kind vintage treasures, and so much more! We are so excited to re-open our shop when it is totally safe to do so, but for now we are proud to offer our comprehensive online store as a temporary replacement.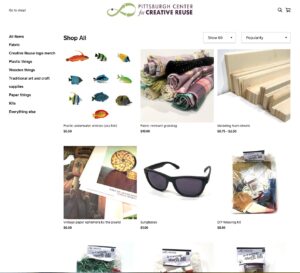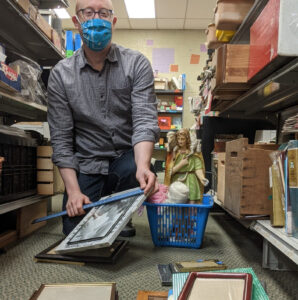 PERSONAL SHOPPING SERVICE
If you've checked out our online store, and realized we haven't listed the items that you need, fear not! Simply fill out the easy online form and we will do our best to search our shop and collect the items you're after.
Our Bulk Section is a unique part of our shop where you can fill up a small, medium, large bag (pictured below), or bulky bulk (it's huge!) bag with all kinds of interesting materials for just $4, $6, $9, or $20. Popular with teachers, families, and creative people, our Bulk Section is one of most cost effective ways to get large quantities of materials for your creative projects.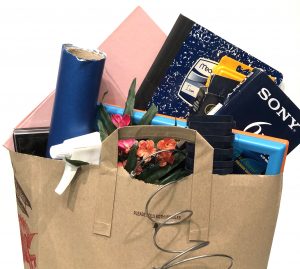 Accessibility:
We're here for you! We are committed to your comfort and full enjoyment of our space. Please contact us if you have questions or requests at shop@pccr.org.
Bus information:
Penn Ave & Lexington St (71C – from Oakland and Wilkinsburg)

N Homewood Ave & Thomas Blvd (74 – from Squirrel Hill and Larimer)

East Busway, Homewood station (EBA – from Swissvale and Downtown)